Above, Boeing B-17G Flying Fortress. Photo Credit: Michael Barera
The Barksdale Global Power Museum is home to one of the best collections of historic military aircraft and artifacts ranging from World War I to the modern age of aerial bombardment. In a sense, the museum and adjoining airpark is something of a "time machine" in that visiting the museum takes one back to the early days of the United States Army Air Corps, long before words like "shock and awe" became part of the military jargon for aerial bombardment.
"We are definitely a local gem for the Barksdale community, the local community of Shreveport and Bossier, which are intertwined in so many ways." says Amy Russell, Director for the Barksdale Global Power Museum which is one of only 12 official U.S. Air Force Field Museums in the country. "We love to bring people here to tell them a little bit of our history because our history is truly the American story. It's not just the Air Force story, it's your story too."   And what a story indeed. The museum is divided into two parts: an outside airpark consisting of 20 static displays of aircraft and an inside component featuring eight different display galleries, each telling a unique story. A visitor to the Global Power Museum can expect a fascinating journey through the past and discover the dynamic history of Strategic Bombardment at the home of the 2nd Bomb Wing, the mighty 8th Air Force, and the new Air Force Global Strike Command. There's also an area dedicated to the base's namesake. "We look at Lt. Barksdale." Amy explained, "Where did he come from, who was this guy, you know? We tell his story too."
But perhaps the biggest draw for visitors are the WW2 bomber aircraft. Barksdale's Global Power Museum is home to a B-17 "Flying Fortress" Bomber named "Miss Liberty", a B-24 "Liberator" Bomber,   and B-29 "Superfortress" Bomber. Noteworthy is the B-24 bomber which, according to Amy, is the sole survivor from the more than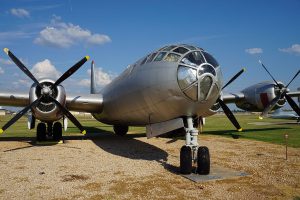 10,000 that were built at the Willow Run Ford Plant in Michigan during WW2. "There's only one that's left and it's ours so she's pretty special." Amy said proudly. Ford's Willow Run Plant built Model T's before the war and was converted so they could manufacture B-24's and at its height, the Willow Run Assembly Line could build one B-24 in 55 minutes from start to finish. Such is the history behind this unique aircraft on display in Bossier City.
The museum also features modern military aircraft as well. "We have a British B2 "Vulcan" from the Royal Air Force," explained Amy. "When they took them out of their inventory, the RAF donated four to the U.S. Air Force and we got one of them because they would bring them here specifically for the bomb competition we used to have here." Rounding off the aircraft are a B-52D Bomber and a Soviet-era MIG 21 fighter, both which were used during the Vietnam War. And then there's the supersonic SR71 "Blackbird" which flew high-speed, high-altitude surveillance missions during the Cold War and holds a special attraction for today's younger visitors and for which Museum Director Amy Russell shares a certain enthusiasm. "What an amazing aircraft and for our younger audiences that come in, that's normally the plane they know as this is the plane of "The Transformers" movie, this is the plane of Marvel Comics, this is the plane of the cartoons and the shows and the super-heroes they know." Amy added, "So how often you get to bring your kids out and say: there it is in real life? This is the real-deal, this isn't a cartoon, this isn't a toy, this is the real-deal!"
Even though the Barksdale Global Power Museum is located inside the North Gate of Barksdale Air Force Base, you don't have to be in the military to visit. Visitors with a valid driver's license can enter the base and see the museum 7 days a week between 9:30am – 4:00 pm but is closed on Thanksgiving, Christmas, and New Year's Day. Admission is free. Large groups should call ahead and an Airman will be assigned to assist with your visit. More details on visiting are available on their website.
To contact: call (318) 456-5553 or (318) 752-0055. The address is: 88 Shreveport Rd, via North Gate Road Barksdale AFB, La. 71110.