Bossier Schools received its report card today from the Louisiana Department of Education, which showed marked academic gains in the 2016-17 school year, earning it the designation as an 'A' ranked public school district.
An increase of 9.4 points bolstered Bossier Schools' District Performance Score to 101.1 and an 'A' letter grade, reflecting Superintendent Scott Smith's vision for different teaching practices and increased student learning over the past year.
Airline and Haughton High Schools also went up a letter grade, becoming 'A' ranked schools. Bossier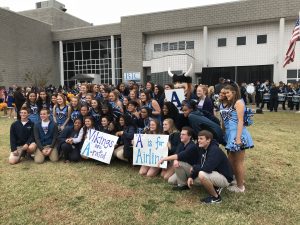 High and Waller Elementary moved the needle as well and increased a letter grade; and Cope Middle, Plain Dealing High and Stockwell Place Elementary were named Top Gains schools, based on individual student progress.
"I am excited beyond measure for our students and employees for the exhaustive efforts shown and outstanding job they did throughout the year amid sweeping curriculum changes and the academic performance bar being raised," said Bossier Schools Superintendent Scott Smith.
"The School and District Performance Scores can be attributed to collaborative efforts at every level," Smith continued. "Everyone at Bossier Schools is a piece of the puzzle, from teachers and students to administrators and support personnel. Credit must also go to our School Board representatives, who allowed us to do some very innovative things in the classroom to help ensure academic success. This is a great day for Bossier Parish Schools!"
Smith placed top priority on integrating Professional Learning Communities at each school and putting a mentor/mentee program in place to ensure every child has an adult they work with to chart their individual blueprint for academic success and personal best. A complete curriculum realignment was also implemented, changing the way the district teaches and tests students.
Earlier in the year, Bossier Schools claimed the sixth place spot for overall ACT composite score ranking in Louisiana and exceeded the state average in science scores by 10-percent on the 2017 LEAP proficiency exam.