With all the business happening in Bossier, it's no question why there are plenty of other gems to share throughout the parish. Here are a few more to add to the list of places Bossier residents call, "hidden gems."
Lucky Palace
Lucky Palace is one of the top hidden gems in Bossier City. Owner Kuan Lim has a passion for food and wine like no other in the parish. As stated on the menu, Lim believes, "Wine and food can elevate each other." Of its many accolades, Lucky Palace has been noted for being one of the Top 100 Chinese restaurants in the United States. According to Food and Wine, they've also recently been named a semi-finalist for the James Beard Award. Tucked away in a hotel, this restaurant provides a relaxed and inviting atmosphere with a solid menu and excellent wine for a night out. "Chinese food with a gourmet twist" is how they categorize the food. The menu is filled with typical Chinese food items, but with specialty selections that come recommended by many in Bossier. Plus, Lucky Palace is known to have the largest wine selection in Bossier City. They take pride in the taste and experience of drinking wine. Ever heard of a coravin? This special tool allows Lucky Palace to open a bottle of wine without removing the cork. Keeping the cork in actually prevents oxidation and preserves freshness. You should give it a try!
Location: 750 Diamond Jacks Blvd.
Learn more: lucky-palace.com
Home Again
Consider furnishing a home with unique pieces from this Bossier City business. Home Again's first location in Shreveport expanded a few years ago to Bossier City making it a big gem for the community. The Bossier location spans larger than the 3,500 square foot store in Shreveport. If you are thinking thrift shop, think again. The store is filled with gently used pieces that are up to a quality standard. With new inventory coming in daily, customers can shop new items and find pieces to match the interior decor in any home. Home Again is a consignment store, which both the buyer and seller benefit from, but many of the quality finds are highly sought after.
Pro tip: Look out for the bow sale. A lot of Home Again regulars know the bow sale brings you more savings, allowing customers to shop the most discounted price on furnishings. But, if you find an item you fall for, don't wait. Get it! Many times items are there today but gone tomorrow.
Location: 2907 East Texas Street
Learn more: homeagainupscale.com
Ellis Home and Garden
What spawned from pottery manufacturing in East Texas, later grew into a Bossier business and now into a gem. For over 30 years, Ellis Home and Garden has been selling some of the most sought-after items in Southern decor and gardening. With locations in Bossier City, Shreveport and all over East Texas, this business is still considered local because it is family-owned and operated. No matter the season or holiday, Ellis is one of the top places to buy decorations in the community. As a bonus, the products found at the store are often one-of-a-kind items as the Ellis family travels overseas to bring back goods twice a year. Also, the greenhouse operations bring in gardeners from all around the Ark-La-Tex. From fall pumpkins to locally-grown annuals and shrubs, there is something for anyone with a green thumb. Ellis also opens special Christmas Shops in December bringing an impressive selection of holiday items specific to the season.
Location: 1150 Airline Drive
Learn more: www.ellishomeandgarden.com
Retro 521 Coffee Cafe & Venue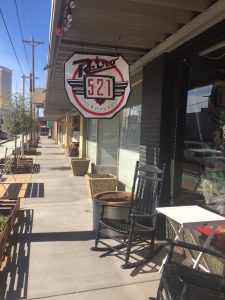 Retro 521 Coffee Cafe & Venue has declared 2018 as the year of the coffee bean. Bring in the new year with a cup featuring beans roasted in Mooringsport. Retro 521 is a space for everything – not just a coffee shop. This business also doubles as a venue for special events such as bridal showers, business meetings and even a place to do Zumba. The retro atmosphere is an eclectic space ideal for building a creative vibe. Besides coffee, Retro 521 offers a breakfast and lunch menu for those who want a bite while doing business in downtown Bossier. Try the House Hipster Dressing on a salad or go for a "breakfast dessert," where Retro 521 makes it seem OK to eat Retro Crack Cake for your first meal of the day. Be sure to take a seat outside and soak in downtown Bossier City.
Location: 521 Barksdale Blvd.
Learn more: www.retro521.com
Flying Heart Brewing and Pub
Speaking of brews, Flying Heart Brewing and Pub was the first brew kid on the block. With craft brews ranging from blondes to stouts, this pub has a passion for creating a beer style all its own. The business began when two couples grew an appreciation for beer. After a night of crafting their first drink, the group decided to brand their brew and grow into a business. Soon the group flipped Historic Fire Station No. 6, creating a Bossier beer following. What adds to the support of this brewery are the events Flying Heart hosts each month. Follow them on Facebook or on their website to catch a wide variety of events spanning a range of hobbies and interests. From PUBlic Theology to Super Bowl parties, this pub is one of Bossier's best spots to bring your business.
Location: 700 Barksdale Blvd.
Learn more: www.flyingheartbrewing.com
Do you have a hidden gem we haven't covered? Tell us what other gems we need to know about in Bossier Parish.