You don't have to be a foodie to experience great food in Bossier City this March. Next week, beginning March 13-17, is 318 Restaurant Week throughout the Shreveport-Bossier City area. This week-long event, launched by the Shreveport-Bossier Convention and Tourist Bureau, is the best way to taste some of the best bites in Bossier and at a discounted rate.
From tacos and pizza to burgers and brews, you shouldn't miss out on a tour for your taste buds through Bossier City. Restaurant specials beginning during the lunch hour offer meals for $10. Most locations in Bossier City also have dinner options for $20. Plus, many restaurants have drink specials that also help add to the experience.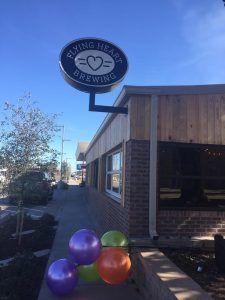 One restaurant participating in 318 Restaurant Week is Flying Heart Brewing and Pub. You may remember the pub and pizzeria when co-owner Ben Hart was featured on Be Bossier's Like a Boss. They are located in the East Bank District and will offer a $15 lunch special featuring a "hunk" of homemade lasagna, a side salad and a pint of beer. Not only is Flying Heart known for their beer, but now they are also known for their pizza and Italian menu items.
Jeffrey Judge, also known as "The Pizza Guy" of Flying Heart, said the restaurant will offer the best of the best for the week-long celebration.
"We put love into our food. We take pride in everything we make and put on the plate," Judge said.
Judge says they are participating because they want to bring more focus toward local eateries plus they are offering their delicious lasagna or how he puts it, "a beautiful pan of carbs with meat and cheese."
Restaurants in North Bossier are also participating in the week. Cork and Barrel, though not open for lunch, offers a dinner option with beer or wine flights. This location has 31 beers on tap and three wines on tap and their goal is to make their customers happy, which shouldn't be too difficult if you have their special featuring the glazed salmon.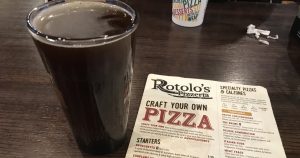 But if you are near the north side of the city and a personalized pizza or calzone is the way to your heart, try Rotolo's located at 5000 Benton Road, Suite 10. The pizzeria prides itself on fresh dough made daily.
Owner John Psalmonds said Rotolo's offers a good value for lunch during 318 Restaurant Week.
"We try to do a lot of work in the community. This weekend Rotolo's is one of the main sponsors in the Ark-La-Tex Craft Beer and Barbecue Festival at [Louisiana State Exhibit Museum]. When we heard about restaurant week, we jumped on the chance to participate."
He says the Bossier location differs from Shreveport because it is near many neighborhoods in the city.
"We have a lot of families come here because the location."
Psalmonds' recommends the muffaletta pizza for the $10 lunch special. With an olive mix made fresh, this unique pizza has all of the meat associated with the sandwich. Also try their fresh spring salads if you want something a little more on the healthy side.
With six different restaurant options in Bossier City for restaurant week, you should get out and enjoy specials at each of the eateries that represent the Bossier City community. During 318 Restaurant Week, you can be a tourist and experience a new restaurant you haven't tried before.
Be a pro at 318 Restaurant Week: You can sign up on the Tourist Bureau's site to receive the 318 Restaurant Week newsletter and also get entered to win $100 in gift cards from participating restaurants. New restaurants are constantly being added so stay updated by following their Facebook page.
Here are the Bossier City restaurants that are participating:
*Restaurants are constantly being added, so be sure to check the 318 Restaurant Week website for more participating restaurants*
Cork and Barrel
*Not open for lunch*
$20 Dinner: Dijon Honey Glazed Salmon topped with a Dijon mustard-based topping served over an organic sauteed spinach. Served with seasoned asparagus and a dinner salad.
Hours: Tuesday-Thursday, 3-9 p.m.; Friday and Saturday, 3-10 p.m. Beer or wine flights also available with dinner special.
Rotolo's
$10 lunch: Create your own calzone or personal pizza, includes soft drink or tea and an order of cinnamon bites. 11 a.m. to 2 p.m.
$20 dinner: Two large, single-topping pizzas – dine in or to go. Available 3-9 p.m.
Hours: 11 a.m. to 9 p.m. daily
Twisted Root
$10 lunch and $10 dinner: "The All-American Meal" half pound beef patty with two slices of cheese and topped with bacon. Side of hand cut fries and a root beer float.
Hours: Open daily 11 a.m. to 9 p.m.
Don Juanz Baja Beach Tacos
$10 lunch: Three of their most popular tacos: Baja Beach Fish Taco with seared, prime-grade yellow fin tuna on a fresh gluten-free corn tortilla; a Baja Carnitas Taco made with pasture raised pulled pork and topped with local honey, chipotle and tequila sauce; and a Mexi-Cheez Steak Taco on a freshly made flour tortilla.
$20 dinner: The Baja Del Mar: one Baja Beach Fish Taco, one Pacific Rim Fish Taco and one Baja Shrimp Taco with grilled US-caught shrimp; gluten-free black beans and rice with guacamole made from Haas avocados.
Hours: Sunday through Thursday, 11 a.m. to 9 p.m. Friday through Saturday, 11 a.m. to 10 p.m.
Flying Heart Brewing & Pub
$10 Lunch: Your choice of 10 inch pizza and soft drink.
$20 Dinner: Reuben pizza and your choice of draft beer for two.
$15 Lunch and Dinner Special: Homemade lasagna, a side salad and a pint of beer.
Hours: Monday through Saturday, 11 a.m. to 9 p.m.; Sunday, noon to 7 p.m.
Strawn's Eat Shop Also
$20 Dinner: Two people for $20. Includes your choice of nightly dinner specials, one drink (tea or soft drink) and a slice of Strawn's world-famous ice box pie.
Available at all three Strawn's locations.
Hours: Open daily 6 a.m. to 8 p.m.
For more info on all of the participating restaurants throughout the 318 area, go to www.shreveport-bossier.org/restaurantweek