Whether you're looking at getting that first job or you're mid-career and looking at upgrading your skills, there's plenty of resources available in Bossier Parish to accommodate your career needs. The best part is you can refresh your skills all online. There are so many options from test-drive free college courses to brush up on your academic skills to online work-ready courses that offer accredited certifications in anything from professional office skills, internet technology and even health-related occupations. Here are a few ways to better your skill set.
Test-Drive Free College Courses
Allison Martin is Director of Institutional Effectiveness Initiatives for Bossier Parish Community College. She said that back in 2012 the school discovered adult students returning to school were spending considerable time in "developmental courses" but not improving academically.
"They would spend semester after semester prepping and not even be able to get to college level coursework which eats up a great deal of money and time," Martin said.
For those looking at improving their academic skills or seeking some practical knowledge about internet technology or manufacturing, BPCC's Open Campus™ offers online courses in "module" form so online users could watch lecture videos and take quizzes as many times as needed. Quizzes are graded immediately and offer valuable feedback to online learners. Best of all, there's no fee and it's an easy learning resource to access.
Currently, there are 14 learning modules focusing on subjects like Algebra, English, Science, Computer Programming and IT, Manufacturing and others. It's easy to enroll, just pick a course and follow the prompts. There are no textbooks or materials to purchase. Courses are self-contained with no direct interaction between instructors and students and all coursework is self-paced with no time limits, schedules or deadlines. It's important to note that while BPCC's Open Campus™ developmental courses are non-credit, taking the courses allows users to take tests on subjects studied like Math and English to get college credit.
Online Career Training With Certification
For people who wish to explore online courses that offer certified career training programs, Bossier Parish Community College has partnered with ED2Go, the industry leader in affordable online learning for adults. ED2Go provides high-quality online continuing education courses that are easy to use. There are hundreds of engaging online courses, covering every topic from Accounting to Web Design. You can take courses from the comfort of your home or office at the times that are most convenient to you. A new session of each course starts monthly. Most courses run for six weeks and are composed of 12 lessons, representing 24 hours of instruction. You can ask questions and give/receive advice at any time during the course. Upon successful completion of the course, you will be able to download a certificate of completion. These courses do involve some fees, but they are some of the most affordable and practical courses offered online today.
Virtual Career Center
Say you're beginning your career or changing to a new one but you just aren't quite sure what to do next. Every Career Training Student through BPCC gets free access to The Virtual Career Center which offers support and guidance in taking that next step. This online portal is open 24 hours a day and allows for access to industry market data, current job opportunities and a lot more. You can research which skill sets are in demand in your area of interest. There's also useful online job hunting advice and resources to help you begin your search. If it's your first time for a job search or it has been awhile since you've put a resume together, there's help to get you started. There's also tips on what to wear for the interview and help with asking the right questions during the job process.
Free Online Gale Courses From Bossier Parish Library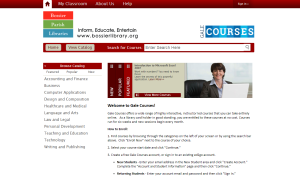 If you have a Bossier Parish Library Card, then you're just a web connection away from taking free online courses that can give your career a boost or get you started on a new one. Gale Courses offer a wide range of highly interactive, instructor led courses that you can take entirely online. As a library card holder in good standing, you are entitled to these courses at no cost. Courses run for six weeks and new sessions begin every month.
Andrea Gilmer, Community Engagement Specialist with Bossier Parish Library, believes this is a great tool for people to use.
"Gale Courses is amazing and is one of the best services we have to offer," Gilmer said. "You can use it in a lot of situations like continuing education for business. Gale Courses provide certificates in a lot of courses to show you're up to date in topics in your field. In fact, it's great for people who are looking to change careers and need a little more education in areas that they're not strong in."
Certificates can help a person better qualify for positions that require certain subject knowledge whether it's accounting and finance, computer applications, healthcare, legal matters, or foreign languages; to name just a few. There's even free tutoring available to help with the rough spots.
Northwest Louisiana Technical College
Northwest Louisiana Technical College is expected to be offering a new online learning opportunity for people to get high school equivalency, learn what employers need and brush up on job skills. Learn 2 U will be designed to provide students with skills to become work ready. While still in development, Learn 2 U will be coming soon. Those interested in the program are encouraged to follow Northwest Louisiana Technical College-Shreveport/Bossier on Facebook.
Where to Start?
With so many options to choose from, it's easy for a person to get overwhelmed. However, each website has contact information where you can either e-mail or call for more information. This can help you decide how to begin refreshing your career and determine which online courses match your career goals.