Bossier is known for many things – being a safe place to live and good schools, for example – but a major reason so many people from across the Ark-La-Tex stop in Bossier is simple: Shopping! Bossier is home to many mom-and-pop shops that offer a wide array of items in all different types of stores and locations. Here are some of the best and most unique stores to go shopping in Bossier City and Parish.
1. Antique Shoppes
No millennial-focused arts district would be complete without its own unique antique shoppe and vintage store. Located in in the trendy, newly-developed East Bank District, Antique Shoppes is a multi-vendor antique mall featuring vintage, shabby chic furniture, custom built farm tables, collectibles and a large collection of vintage signs among hundreds of other items.
Barbara Brown, partnered with Trish Nattin, opened the store three years ago and now offers 30 different vendors with a variety of items that are refreshed regularly.
"We're not a big box, you never know what you're going to see. It changes every day," said Brown.
Antique Shoppes feature quality items.
"If you compare the new stuff to the old stuff, the old stuff is cheaper and better-made. It's not plastic, it's better quality," Brown said.
Top selling item: Brown says it varies, "Sometimes it's furniture, sometimes it's small little Knick Knacks. I think people want things from their childhood. It brings back memories from when they were a kid."
FYI: When it comes to shopping in Bossier City, Antique Shoppes is able to keep up with the trend of mixing old with new. "People are looking for unique vintage things to add to their decor," Brown said. "We see old books, antiques, and even windows and doors for decor in their house."
Location: 1100 Barksdale Blvd.
Facebook: https://www.facebook.com/antiqueshoppes/
2. Frilly Magnolia Boutique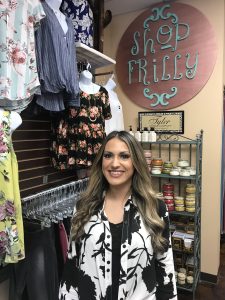 One of the stores that is quickly becoming a popular destination is the Frilly Magnolia Boutique. In fact, it was recently named the best boutique in the state of Louisiana and was nominated for the Bossier Chamber of Commerce's 2017 small business of the year.
Designed to be an affordable small town boutique, owner Brittney Copeland started her business online out of her garage before locating her bright friendly brick-and-mortar in a strip mall near the courthouse in Benton two years ago. Her priority was making a place that would be affordable for all women.
"The biggest deal to me was that if I ever opened a store, it would be a place I could shop. I remember being a single mom, broke as could be, and I got a job downtown and had to buy new clothes. Well, I couldn't afford them," Copeland said. "So I wanted this store to be a place that, whether you work at Sonic or an executive office, you can find something in here."
At the Frilly Magnolia Boutique customer service is a priority.
"Our customers are our friends," Copeland said. "By the end of a sale, we know their kids' names, where they're from, and what's going on in their lives."
Top selling item: Bath bombs that turn water different colors and have prizes in the bottom.
FYI: Copeland says their mixology line allows people to make their own unique perfume or cologne. She said, "It's way cheaper than going and buying something you may not like the smell of after a little while."
Location: 187 Burt Blvd STE D, Benton
Facebook: https://www.facebook.com/TheFrillyMagnoliaBTQ/
3. Sloan's Boutique
Sloan's Boutique is actually one of two local stores, there is also Sloan's Formals. The family owned-business started 30 years ago by the mother of current owner Patti Maughon.
It all began with her formal store on Airline two years ago, which is now located on Benton Road in Bossier City. They expanded to open a Boutique store featuring trendy, stylish, affordable clothes for all ages last April and moved to Pierre Bossier Mall in November.
"It's just something God led me to do," Maughon said.
Customer service is important at Sloan's Boutique.
"We treat everyone like family."
Top selling item: Graphic tees. "We have so many people that dress it up by pairing with a cardigan," said Taylor, Patti's daughter.
FYI: They have handmade jewelry that is crafted locally.
Location: 2950 E. Texas St. (inside Pierre Bossier Mall)
4. Generations Gifts
Generations Gifts was started in 1989. To describe both their season store in Pierre Bossier Mall and their standalone location near BPCC, "eclectic" doesn't do it justice.
You can find everything from religious decor to oil warmers and fragrance oil to comic book posters as well as knives and swords. The store is almost split down the middle with everything for your inner child to the left — guns that shoot foam darts, metal swords famous in pop culture, to even a mounted tyrannosaurus rex head — and all your sensible decor — smell goods, birdbaths, benches, porcelain Knick Knacks, even some gag gifts — to your right. This makes it one of the best places to go shopping in Bossier City.
"My parents started the company with the concept of good values and exceptional customer service. The times have changed and so has our merchandise but that philosophy will last for generations," co-owner David Trippel said.
Best selling item: It's a tie between oil warmers and knives
FYI: "We have an eclectic assortment of gifts: from fragrance warmers to fairies, a large selection of religious items, animal statuary, pocket knives and swords, to seasonal items like chimineas, concrete statuary and wind chimes," Trippel said.
Location: 6795 E. Texas St.
Facebook: https://www.facebook.com/generationsgifts/
5. Margo's Specialty Flower and Gift Shop
Tucked away off US Hwy. 80 in Red Chute (aka Haughton) is a store that specializes in flowers but is actually jam packed with tons of gifts. Margo Williams opened Margo's Specialty Flower and Gift Shop eight years ago to capitalize on her decades of floral design experience.
In addition to flowers for the home or special events, she wanted to offer fruit baskets, women's accessories, gifts and decor. Her gift shop features dish gardens, gourmet gift baskets, bath and body treats, jewelry, purses, baby gifts, special candies, home decor, scented candles, stuffed animals and more.
"We can accommodate any floral or gift need for any occasion or event. We want to be your floral and gift choice," she noted.
Williams always strives to provide a great price for her customers.
"A lot of people are scared because it's a small shop and they think because I'm a boutique I have outrageous prices. I try really hard to keep my prices low because I want people to come in and buy several things."
Top selling item: It varies, according to Williams. "There's no one set item, it changes so much, even day-to-day."
FYI: Williams can do custom floral arrangements for your home. She explained, "You can come in with your colors and we'll make a centerpiece for your home or something to accent a room in your house."
Location: 1000 Hwy. 80, Haughton
Facebook: https://www.facebook.com/margosinhaughton/
These are just a few of our favorites. What are some of your favorite places to go shopping in Bossier City and Parish?