Kari Johnson, the Library Clerical Aide at Stockwell Place Elementary School in Bossier City, has been awarded the 2018 Louisiana Library Association Support Person of the Year. A military spouse from Sacramento, California, Johnson and her husband have lived in Shreveport-Bossier for the last nine years. She's been employed with Stockwell Place Elementary for the last four years. As the Library Clerical Aide, Johnson spends a lot of her time helping the students check in books, assists the Librarian with lesson plans, and most importantly, teaches her students educational independence and confidence in the library.
"I try to come up with programs that empower the children to be independent and to encourage others," Johnson said.  "We like for them to find books on their own. We have something called, 'Ask 3 Before Me' so they can ask their friends if they don't know how to do something before asking a grown up."
Johnson spends time creating leaders among some of the children in each of the classes.
"At the beginning of the year, I'll try to train a couple of 'professionals' that catch on quickly of the different tasks in the library, so if a friend needs to know how to do something, they know they can go to their friend, 'the expert.'"
Though Johnson always pictured herself as a Respiratory Therapist, she has always had a passion for books and libraries. Her love for reading shows in her work with the students.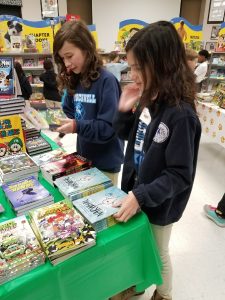 "I love it when a kid comes in and says they don't like to read," Johnson said. "I want to see if I can change that. We might start small at the beginning of the year with their interests and you know they say they don't like anything, but by the end of the year they finished the last Harry Potter book. It blows me away."
Kim Howell, the Librarian at Stockwell Place Elementary, is a witness to Johnson's passions.
"She's just all about the children and what will make it fun for them and what will inspire their love of reading, and that's what it's all about for her," Howell said.
Johnson's original plans for her career were leading in a different direction before she moved to Bossier City and became a regular volunteer at Stockwell Place Elementary.
"I started volunteering in the library on a weekly basis, and I loved it," Johnson said. "I never knew I would. I thought I was going to do something in the medical field, I took so many classes to work towards that. But I absolutely love it and I would not trade it for the world."
Howell feels that Johnson is well deserving of the Louisiana Library Association Support Person of the Year Award.
"I think a parent of one of our students said it best when she said that this is more of an extension of who she is than a job. She's just so self-motivated," Howell said.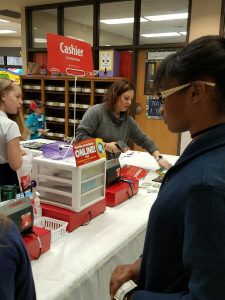 Besides the Support Person of the Year Award, last month Johnson received the Gold Star Award which is a District recognition given to nine faculty members throughout the year. The winners are nominated by their peers, students and  parents who write letters of recommendation.
Johnson's goal every day is to ignite a passion for reading in her students and make the library a comfortable place that they can enjoy visiting for years to come.
"I've been teaching for 21 years and I've never seen anybody so devoted," Howell said. "She makes The Book Fairs fun for the kids, makes sure everyone feels welcome at our school, and that every single child at this school goes home with a book."