Small town, free spirited Lori McHughes has always loved art for as long as she can remember. McHughes has been in Bossier since 1976 when her father got stationed at Barksdale Air Force Base. She has made a life for herself as a full time Medical Assistant at Willis Knighton Bossier with her husband and two grown sons. Yet she still finds plenty of time to chase her passion for creating beautiful things.
Every morning before work from 5 a.m. to 7 a.m., McHughes spends time painting. She also partakes in gardening and upcycling. When asked what first inspired her to create her crafts, McHughes was at a loss for words.
"I can't answer that. I've just always liked funky colors," McHughes said. "I guess I'm just a very eclectic type of person."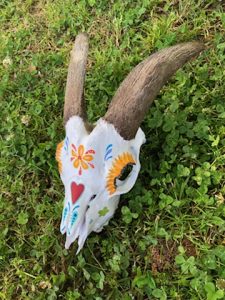 You could say that McHughes inherited her fun-loving personality. As a child, she would accompany her parents to art auctions and their house was always covered in beautiful art on the walls. Her dad owned an art framing store in Shreveport-Bossier called Deck the Walls in the 1980's and he framed a lot of her own art for her.
Aside from the normal portraits that most artists practice, some of the items McHughes uses to create her crafts are from sheets of tin, gourds, scrap wood and bowling balls. She has created many things for her garden at her home, has made birdhouses and maracas out of gourds, has painted old guitars, and she even makes Didgeridoos.
With McHughes' love of funky colors and the outdoors, it is no surprise why she chose the name, "Color My Garden Silly" for her art business.
"Most of everything I create is meant to be outside somewhere to bring some color to your yard," said McHughes. "I just want it to step outside of the box and be silly."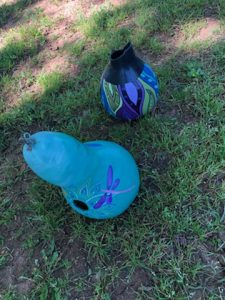 Though McHughes has never been featured anywhere, she has sold many of her creations at local art shows. Texas Avenue Makers Fair was her first.
"I have a lot of fun doing art shows, I meet so many amazing people like Chris Graham with Man Made Soap," said McHughes.
One of McHughes best sellers is inspired by her youngest son's Malignant Melanoma diagnosis at just 21-years-old. During this difficult time in the family's life, the mother and son duo shared a special song together by Bob Marley called, "Three Little Birds," where he says that 'every little thing is gonna be alright.' McHughes paints these lyrics along with images from the song on scrap wood to make a beautiful, heartfelt masterpiece that captures the heart of many of her customers.
Once she retires, McHughes hopes to take her funky creations and colors to the popular weekend-long music festivals. She also wants to join the Bossier Arts Council, so they can help her market and put her art out there for more fun, fresh faces to enjoy.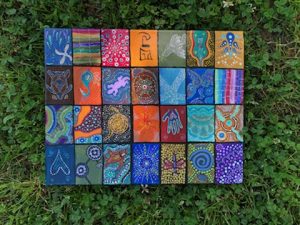 One important lesson McHughes has taken quite literally through her art is to lighten up and make life fun.
"Color is good for the soul," said McHughes. "My whole life is funky, colorful and balls to the wall. People just need color."