Most folks outside of Louisiana primarily associate our state with the major cities of the south: New Orleans, Baton Rouge and Lafayette to name a few. But those people honestly don't know what they're missing. Northwest Louisiana has long been home to a bevy of unique towns. Most of them are tucked away just a few miles out from a larger hub, allowing residents to reap the benefits of small town congeniality and big city convenience alike. This is very much the case for Benton, Louisiana. Located just north of Bossier City, and settled firmly in Bossier Parish, this small town is imbued with rich history, colorful residents and plenty of perks. It begs the question: Do you know the history of Benton?
Thomas Hart Benton
The town is named after US Senator Thomas Hart Benton, who served in the senate from 1821 to 1851. Benton successfully advocated for the annexation of the Republic of Texas and served as a key ally to former President Andrew Jackson. Benton had a hand in pushing for the intercontinental railway, supported expanded use of the telegraph, and authored the first Homestead Acts, which gave land grants to anyone willing to farm it. He also pushed for the construction of the road between Arkansas and Louisiana, which ran through Plain Dealing and Benton. Further solidifying its government ties, Benton presently serves as the seat of Bossier Parish, making it the hub for all levels of government Parish-wide. The Bossier Courthouse is homed in Benton, which, as Mayor Shelly Horton, Jr. tells it, there's a fun bit of folklore surrounding that decision.
"The courthouse was originally in Bellevue. Supposedly, they voted on it one time because Benton wanted to move the courthouse," said Mayor Horton.
According to him, Benton won that election, but Bellevue claimed the election was rigged. Naturally, the good townspeople of Benton retaliated by stealing the courthouse records from Bellevue, and Bellevue retaliated in kind by stealing them back. The whole affair was only settled when the courthouse in Bellevue burned, ceding the courthouse location to Benton.
Some of the records Mayor Horton has found seem to indicate that after stealing the records, folks in Benton had a barbecue.
"Only in the South are we going to eat no matter what the occasion is," Horton joked.
Auntie's Attic
Benton's historical ties are also actively preserved in the present by a local business. Auntie's Attic is an antique shop owned and operated by Patti Taylor and her husband, C.A. The building dates back to the 1920s, where it served as a pharmacy, grocery store with butchers market, and also a hardware store. It was built by Mr. E.E. Parker and was owned and operated by three generations of Parkers before Patti's business opened. Much of the original structure remains, including ceiling tiles, shiplap on the walls, door frames, brick siding and several items from the original store. Along the back wall Patti has one of the original "Parker's" signs.
"It still has a lot of the original character," Patti said. "C.A. and I are still trying really hard to hold on to that. It's just a real joy to come to work very day and be in this building. We are trying really hard to keep the ambiance going. We love sharing the memories of this old building of the Parker's."
The store, named in honor of her grandmother, Thelma Chandler, has been a source of joy not just for Patti, but for the Benton community as well.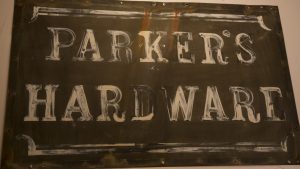 "They come in here with stories of 'we love this place' and 'this is our special store' and 'please don't ever leave', and you know having a business is special, but when you're doing something that people love it makes it even more special," Patti said.
Originally from Ruston, Louisiana, Patti's move to Benton happened more by coincidence than design. However, she's glad to call the town home.
"The antique store has been mine and C.A.'s love. I love it up here. It's not a job to me, it is a relationship with people."
The Expansion of Benton
Patti and her husband aren't the only recent additions to the town. Bossier City is one of the fastest growing cities in the state of Louisiana. While the population of Benton clocks in at just under 2,000 residents, their close location to Bossier has prompted discussions of expansion. There's been talk of annexing some of the property to the south of Benton, between the town and Bossier City. Mayor Horton is cautious in his approach to expansion.
"You've got to be really careful with growth, because you don't want to grow so much that you lose the small town charm," said Mayor Horton. "I think people yearn for that charm where people actually wave to you and speak to you."
Benton Farmers' Market
Originally a large farming community, Benton further maintains a connection to its past through a weekly Sunday afternoon Farmers' Market that kicks into gear this year on May 20. The market will be open, rain or shine, and is located on Simpson Street, right off Highway 3 (Benton Road). Parking is free and several ATMs are on location. The market opens at noon and closes at 4 p.m.
Opening day of this year's market will feature live music from musician and former American Idol contestant Garrett Jacobs at 2:30 p.m. The first two Sundays of the market, Auntie's Attic will also be open. Like most things in and around Benton, the market has grown in recent years.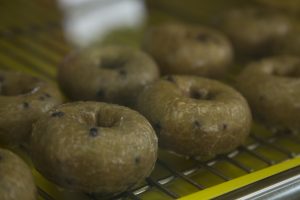 Benton's friendly residents are a large part of what makes the community unique. Feeling like the people who live next to you are actually your neighbors goes a long way in creating a safe and thriving society. The rest is owed to the charming businesses and eateries in Benton along with the close proximity to beautiful Cypress Black Bayou State Park, and the convenience of nearby Bossier City. Bolstered by its colorful past, Benton is perfectly positioned for a bright future.
Now that you know the history of Benton, are you looking for even more info on Bossier Parish history? Check out our blog on, "5 Fascinating Facts About the History of Bossier Parish."