People love to dine al fresco in Bossier. There's something about having a nice meal and/or drinks surrounded by greenspace mixed with the ambience of the city that is almost romantic (as in the art period, not a women's novel).
With summer here, patio season is in full swing. And Bossier City has its fair share of outdoor dining options that have the ability to compete with summertime heat.
The right amenities – from shading, fans, decor, eats and drinks – all make the perfect spot to park it and relax after a long week. Here are the best patios to enjoy the outdoors comfortably at some of our favorite restaurants in Bossier City.
1. River City Grille
River City Grille's semi-enclosed and insulated deck features roll-up doors and removable window panels for climate control. Overhead fans give a nice breeze during summer, while there are outdoor heaters for the cool months. Although located on a busy Benton Road, the patio was constructed to limit noise. Dotted with televisions for sport fans, and live music on select evenings, this patio is the perfect casual dinner spot.
Location: 1903 Benton Rd
2. Cork & Barrel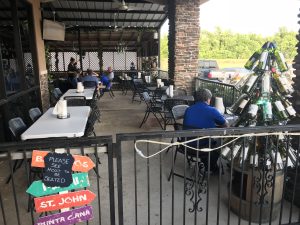 Tucked away between Bossier City and Benton off Airline Drive is an upscale restaurant with a very lovely rustic patio. Somewhere between a winery and bistro, the decor is inviting and intriguing. Where it gets the leg up is that there are a ridiculous amount of beers to choose from — along the lines of 30 — and two house wines on tap. That means there is a lot of variety for guests when it comes to relaxing outside. Its quiet patio, shielded from road noise, also features live music on select nights.
Location: 5212 Airline Drive
3. Nicky's Mexican Restaurant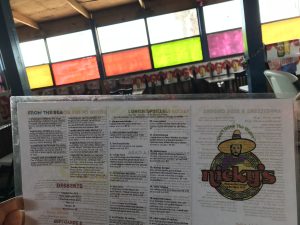 There are two competitors for this spot with one on Highway 80 near Louisiana Downs, just west of Haughton, and one tucked away on Viking Drive. I'd give the edge to the Viking Drive location just because it feels so authentic. Recently enclosed, this patio is slightly more climate controlled and protected from the elements without losing its outdoors feel. A slew of fans provide a solid chill on summer nights. Plus, neon lights and giant TVs give the patio a unique ambience that is perfect for sitting back with a frozen margarita. This is one of the best restaurants in Bossier City when it comes to patios because there is more than one to choose from!
Location: 2701 Viking Dr & 1400 Airline Dr
4. Crawfish Palace
If you're in Louisiana, then you absolutely HAVE to try crawfish. The spicy boiled crustaceans are one of the Bayou State's delicacies and there's no better place to enjoy that and Louisiana's nature than at Crawfish Palace in Haughton. Its screened in patio out front of the wood and tin-roofed eatery reminds you of Sunday lunch at grandmas and just screams "THE SOUTH!" The smell of the boiled crawfish permeates the patio and adds to the overall experience of partaking in the state's signature meal.
Location: 1865 US-80, Haughton
5. Chimi V's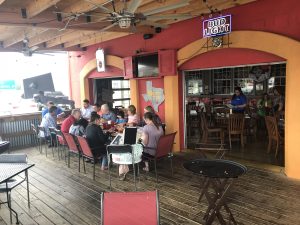 Located on Old Minden Road, Chimi V's is a locally-owned Mexican restaurant with a lot of unique wall art and decor. That sense of fun spreads to its patio that is spacious and shielded from the sun and road by large blinds. It also has a larger, half-indoor-outdoor space connected by rollaway doors with access to a bar, so you don't have to travel far from your outside seat to grab a craft brew.
Location: 2050 Old Minden Rd
Check out these restaurants in Bossier City with some of the best patios and our blog on, "3 Sweet Places to Eat in Bossier for Dessert Lovers."