Education has always been a passion for Public Service Commissioner Foster Campbell, which led him to start a fund 30-plus years ago to provide secure funding for education in Bossier Parish.
With more and more people moving to the Bossier area, Bossier Parish Schools are now among the fastest growing school districts in the state. With cutting edge technology in the classroom, students get hands-on experience in STEAM as well as personal use of laptops and smartboards. Most of these additions in the classroom are a result of the Bossier Education Excellence Fund (BEEF), a perpetual endowment fund started by then-state Sen. Campbell and former Gov. Edwin Edwards.
On June 26, members of the Bossier Parish Schools joined Campbell, Bossier School Superintendent Scott Smith, and Edwards to celebrate BEEF reaching its $50 million mark. With this endowment fund schools receive funding for betterment of classrooms through technology and supplies.
Campbell spoke passionately about how he felt the education systems were often left short when it came to funding. In 1985, he reached out to Edwards to ask for assistance with a solution to this problem. Campbell explained he had an idea that would impact education in Bossier Parish. To fund this solution, all he needed was $500,000 and Edwards on board. Edwards agreed, taking the $500,000 from tax revenue from Louisiana Downs.
Louisiana Downs
Having Louisiana Downs in Bossier was a heated debate when the idea first came around. Campbell described it as two separate sides: the side that approved of horse racing coming to town and the strong Bible-belters that did not. When the horses came to town, so did a boost in funding for education in Bossier, a way to hopefully appease each side.
Thanks to Edwards and his original investment, the fund's balance has now surpassed the $50 million dollar mark.
"This money is not from taxpayer's money — unless you went and bet on the ponies," Campbell joked.
BEEF, a fund named after what was once a comical ad campaign for Wendy's, is now impacting many schools and students of Bossier Parish. Edwards was honest when he spoke at the podium.
"I had no idea that it would ever bear the fruit it did, but knowing you folks, I'm not surprised."
Edwards, a crowd-favorite at the event, had nothing but positive things to say about Bossier Parish and its growth as well as its excellent schools. He went on to say that many people moving to Bossier are doing so because of the education system and schools. Now with BEEF impacting every student in Bossier Parish, it is continuing to help bring people to Bossier.
Funds Only for Education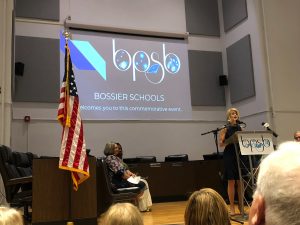 BEEF's purpose is to better the education system by giving money to be used only for education. Student athletics or building renovations will not be funded by BEEF. Campbell says this fund is especially critical today with the state budget woes. So far many schools and students have benefited from this.
"I dare to say not a single one of them has not been impacted in some way through BEEF," Sonja Bailes, Bossier Schools Public Relations Liaison said.
Today, the leaders echoed that encouraging students to excel in education starts with the quality of education we provide them. BEEF is providing funds that will benefit our schools and students now and into the future.