Bossier is home to young professionals who care deeply about their community. Meet one of them who is making moves to be a leader for their home. May's Bossier Millennial Pro is Carlotta Askew-Brown. The 35-year-old is a mother of two, Chase Brown, 8, and Penelope Brown, 4. She is married to Parnell Brown and loves to cook, bake, paint and travel. But let's find out more about Carlotta's job and why she lives and works in Bossier.
1. What do you do in your own words?
I'm the Senior Urban and Regional Planner for the Bossier City-Parish Metropolitan Planning Commission (MPC) and the Assistant-Director for the Benton-Parish MPC. My job is to evaluate the current and on-going condition of the Bossier and Benton metropolitan areas to include land resources, infrastructure, the ever-changing population, commercial and residential development, educational and recreational resources etc., and advocate development plans and/or policies that are within the best interest of the community. I'm also a licensed real estate agent with Berkshire Hathaway HomeServices Ally Real Estate.
2. Why did you want to do that?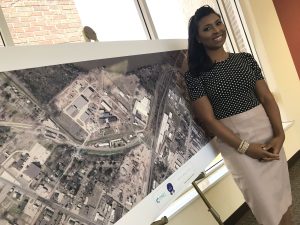 While completing my undergraduate degree in Nashville, TN, I would occasionally go home only to witness entire community shifts as well as changes in the built environment. Entire sub-areas where I frequented as a child were abandoned, dilapidated and were seemingly divested. What's happening? Why are people and businesses moving? Where are they going and why? I needed answers so I researched and reached out to the locals and government agencies and each person gave me a different answer. It was a multitude of variables such as crime, growth of the suburbs, newer developments, safety and better school districts. The consequence of my hometown led me to complete my master's degree in Urban and Regional Planning.
3. What made you want to work in Bossier?
Honestly, one of my professors from Ball State University expressed to me that Bossier City was a mini rendition of Las Vegas and that I should work there as a Planner! After living in the frigid Midwest for two years, moving back down south was a requirement for me! To my surprise, it wasn't like Las Vegas at all. Working as a planner in Bossier has allowed me to gain experiences and take on responsibilities that would have been dispersed amongst several people in a larger planning environment. My work here has also allowed me to create policies, work planned projects and make a visible difference on the physical footprint of Bossier.
4. What is your favorite thing about Bossier?
My favorite thing about Bossier is the progressiveness. Bossier City officials recognize the need to innovate and have aggressively pushed forward to make sure that Bossier is multi-generational and is place that families can live, work, play and eventually retire. I love that Bossier is a place where everybody knows everybody, where people wave at cars passing by, where crawfish time is the best time and where neighbors come together to watch the sunset dip below the horizon.
5. Where do you like to hang out and why?
My newest and latest hangout is Flying Heart Brewing located in the East Bank District of Bossier City. The multi-purpose atmosphere allows me to have business meetings with clients and hang out with friends.
6. What is your favorite thing to do/place to go in Bossier?
I'm a foodie! I love to eat and try different cuisines. Every other Friday, I venture around Bossier looking for new and unique restaurants to try.
7. What do you personally want to accomplish in the future?
There's a laundry list of things I would like to accomplish in the future. Just to name a few: I would love to write a children's book, play guitar with a band, visit all my places of interest and catalog those experiences, own my own business, teach/guide young women, and teach classes about homeownership. My passion is to help and enable others while making a difference and enjoying life right where I am.
8. If you could tell other people one thing about life in Bossier, what would it be?
Bossier is a happening place. You don't want to miss out on what's coming next!
Want to read more about Bossier's best and brightest? Check out last month's Bossier Millennial Pro Haley Reggio.