If you've never met Holly Moerer, you need to. This woman, full of an uplifting and contagious personality, is what living and working in Bossier is all about. Moerer, orthodontic assistant and marketing coordinator at Cosse and Silmon Orthodontics, embodies someone who is perfectly "lovin' their job in Bossier City."
Though Moerer's career started in journalism at Louisiana Tech University – she will still admit she wanted to be the next Barbara Walters – she sought after a career more aligned with having a family. Plus, Moerer's bright smile and friendly personality was a perfect fit for her profession in the dental field.
1. What attracted you to work for Cosse and Silmon?
A local general dentist friend of mine knew Dr. Chris Cosse and Dr. Jeff Silmon were looking to hire, and thought my personality would be a perfect fit with their practice. He had such wonderful things to say about them. In fact, everyone had wonderful things to say about them! I was excited to have a steady 8-5 job, and I immediately loved the atmosphere when I went in to interview.
2. What do you love about working in Bossier?
I love the people of Bossier. I feel like everyone is pretty like-minded in family values and faith. Not having to cross the bridge into Shreveport in the mornings is pretty great, too!
3. Where do you see yourself in five years? If at Cosse and Silmon, why?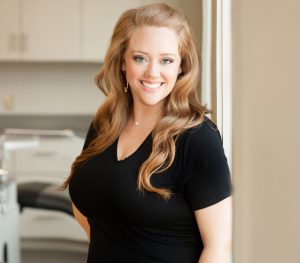 I will never work anywhere else. Dr. Chris and Dr. Jeff are the greatest in their field, and two of the best people I have ever met. There isn't a day that goes by that I don't see them extend grace and love to those around them. They have taught me so much both professionally and personally. It's very uncommon these days to find employers that truly treat you like family, and I consider it an honor to work for them.
4. Can you tell me about a time you went above and beyond for a customer in Bossier?
Our number one focus as an employee at CSO is customer service. We are encouraged to go above and beyond for our patients every day. In my 10 years, there have been numerous times I have made home deliveries and met patients on the weekends to make them comfortable, along with our daily opportunities to make our patients feel like they are the most important person in the room.
5. Tell me about a specific moment when you loved your job.
I love the moment when a previously self-conscious and shy child gets their braces off, and suddenly they are full of confidence and begin smiling ear to ear. Oftentimes, the patient and their family share tears of joy. I share the compassion and I can't help it – I just start happy crying with them.
We also have our car magnet contest, where by simply placing one of our fun magnets on their cars, patients and non-patients are able to win gift cards monthly and are entered into a drawing for free braces. I help out with these moments, and my inner Oprah really loves making complete strangers jump up and down with joy after winning such an amazing prize.
6. What do you want the community to know about working for an orthodontist?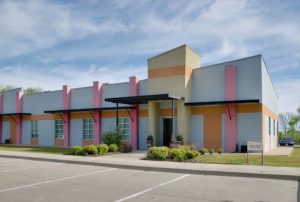 For anyone who is trying to decide on a career in Bossier, the dental field is a great option to consider. We have many wonderful and honest general dentists and specialists serving our community. Being able to wear scrubs to work everyday makes this busy momma very happy, plus, having Fridays off is truly a gift!
Looking for more people that are lovin' their jobs in Bossier? Check out last month's blog on Kristen Edson and her job at the Bossier Parish Central Library.