Ask one hundred people what they love about the Louisiana Boardwalk in Bossier City and you stand a chance of getting 100 different answers. While shopping may seem like the obvious answer, the 500,000 square foot complex provides a plethora of activities so you can stay all day enjoying retail, restaurants, movies and activities.
Ashley Davis, Marketing Manager for the Louisiana Boardwalk, says it's all about making sure customers have fun.
"Louisiana Boardwalk Outlets continues to draw customers locally and regionally as we continue to grow business and grow new ideas and experiences for our customers. Our intention is to make it fun so that they keep them coming back."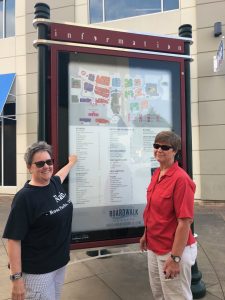 Kelly and Cindy from Oklahoma City had been camping in East Texas and thought "Hey, it's a pretty quick drive, why not?" They trekked over, checked out the local area and made their way to the Louisiana Boardwalk for a day of exploring.
You may be wondering if a trip to the Louisiana Boardwalk Outlets would be something to enjoy. Here are 5 reasons that people love making the trip:
1. Shopping
Opened in May 2005, the Louisiana Boardwalk Outlet is home to over 60 retail stores and restaurants.
"Retail, as a whole, has gone through struggles the past few years with the increase of online sales," Davis said. "So venues like ours have had to come up with new entertainment and events to draw customers in and be able to keep them here with quality and superior customer satisfaction."
With top apparel name brands like Banana Republic, The Gap, Osh'Kosh B'gosh and many more, you are likely to find a great outfit for going out on the town. Looking for a gift for someone special? Bath and Body Works, Kay Jewelers and Bass Pro Shop are just a start at finding the perfect gift. Find the whole list of shops on the Louisiana Boardwalk directory.
2. Good Eats
Whether you're looking for a delectable treat or a full meal, the Louisiana Boardwalk in Bossier City does not disappoint. Tempt your taste buds with a Monster Croc Apple from The Chocolate Crocodile, or get a little nostalgic and pick up some of your favorite childhood treats from Rocket Fizz Soda Pop and Candy Shop. For those looking for a unique snack item, the Beef Jerky Outlet has over 200 varieties of jerky, including a Louisiana favorite, gator. Looking for a steak? Saltgrass Steak House is a hearty choice. You can't go wrong with any of the dining or snack options at the Louisiana Boardwalk.
3. New Fitness Routine
Shake up your exercise routine! A brisk walk along the boardwalk, with views of the scenic Red River, is an awesome way to get in some extra steps, burn calories and absorb some vitamin D.
4. Fun Activities and Events
There is always something going on at the Louisiana Boardwalk Outlets with events throughout the year centered on the family. Here are some of the places to check out on your visit:
• Bass Pro Shop – Bass Pro Shops hold weekly events and classes on everything from fishing, hunting and outdoor activities. Make a pit stop at Uncle Buck's Alligator Bayou to see the live alligators, with educational feeding demonstrations
• Louisiana Wildlife Carousel – There's nothing like taking a spin on a carousel
• Island Fun – Play arcade and video games and exchange your tickets for candy and prizes
• Regal Cinemas Louisiana Boardwalk 14 & IMAX – Check out the latest movies with fully stocked concessions, stadium seating and digital surround sound – New is Regal Value Days with $5.45 movies every Sunday through 12/31/18.
• Group Tour: The Perfect Pair Wine & Chocolate Tasting – A unique pairing of wines and fine chocolate held at Margaritaville Resort Casino, with chocolates provided by the Chocolate Crocodile, a family-owned shop at the Louisiana Boardwalk Outlets.
5. Affordable Hotels
Anchored by the Courtyard by Marriott and Margaritaville Casino and Resort, you can stay on-site and enjoy all that the Boardwalk has to offer. This is a great stay-cation option for locals too!
"We are proud to be a part of the Bossier City community. We look forward to the growth surrounding us in the future," Davis said.
For more information on the Louisiana Boardwalk in Bossier City, check out their website.