You can learn the history of the produce you're buying at the Neighborhood Food & Crafters' Market in Haughton. This year the market will begin on June 22 from 5-9 p.m. and continue every Friday for 6-7 weeks after that. You can find locally grown produce, hand-made artisan crafters, a variety of heirloom organic seeds and more at this market.
Caroline King, founder of Heirloom Farms Produce and market coordinator, believes it is important for people to know exactly where their food comes from. She sells her produce and heirloom seeds at the market as well.
"I'm an heirloom farmer," she said "Heirlooms are seeds that have been passed down from generation to generation. They have not been genetically modified…I have made it my goal to only grow heirlooms. I tell all of my customers that I grow history."
King took over the market in 2013 when she found out the church that previously ran the market could no longer be in charge.
"I just figured we needed somewhere local people could sell and bring the community together."
It is a producer-only market which means the vendor has to make or grow the goods that they sell. King says this is very important for the community.
"We want people to know when they dealt with a vendor that vendor lived here, was a neighbor and that whatever they sold they made it or grew it—that forms a relationship between them and their customers."
Currently, they have a total of 10 vendors selling at the market. King says although it is a small group, she wanted to make sure they were keeping the market truly local.
"We wanted to concentrate more on keeping local truly local and keeping people within their own town providing a service for the people in the town."
Along with fresh produce, the market has a variety of artisan crafters who make one-of-a-kind pieces. "Handmade gifts by Megan" is one vendor that King says creates unique crafts.
"She does a crocheting and knitting that doesn't exist anymore," King said. "She is like a true artisan. These are things her grandmother taught her, so I have people at the market that put a lot into their crafts. They are really true artisans."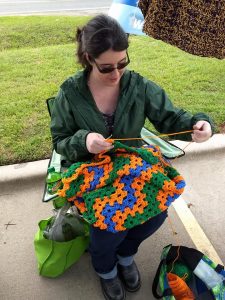 The Neighborhood Food & Crafters' Market is a great place to go if you're looking for something you've never seen before.
"I want people to know when they come and visit us to look around at all the booths because these are things you probably won't see at other markets."
One of King's passions is to teach people to grow their own food. She has taught gardening classes to the Haughton community including a group of home school children.
"It was sort of a science class for them part of their home school curriculum…it's really about getting people to grow their own food…it's a passion of mine."
So if you want to buy fresh produce and unique artisan crafts while making a friend or two, then this market is definitely the place for you. It is free to attend.
Veggie Growing Tips from Caroline King:
Pick something you know you'd eat.
Make sure you have a prepared area to grow.
Know how much time or effort it is going to take to grow what you want to grow and make sure it matches the time you are willing to commit.
Neighborhood Food & Crafters' Market
When: Starting Friday June 22 from 5-9 p.m.
Where: 400 W. McKinley Ave. Haughton, LA 71037
Be on the lookout for the Fall Market that starts mid-October and ends the Friday before Thanksgiving. They also have a Christmas Craft Fair starting on the first Saturday of December.
Photos courtesy of Caroline King