Each day when Katie Andersen goes to work, she gets to spend time at the place that she loves most. As a certified riding instructor and horse trainer at Double Rainbow Farm in Haughton, Andersen instructs people of all ages from beginner level to advanced level. She says when you are working with horses, a new challenge awaits each day, but that's exactly what she loves about her job.
"I like that my day is different all the time," Andersen said. "It's a challenge because I never have the same day. Horse are animals, so it isn't like picking up a tennis racket where you know what that racket is going to feel like that day…I also love matching horses and riders—letting them bond with one another."
Before moving to Louisiana, Andersen taught elementary school in California and in Texas. She met Raegan Comeaux, owner of Double Rainbow Farm, at a horse show 11 years ago. Comeaux asked Andersen if she wanted to join her business. In 2006, Andersen left her business and farm in Texas to join Double Rainbow Farm as a co-owner and instructor.
"It is very rewarding as an instructor," she said. "We kind of take on a little bit of their personal lives as well. We teach riding, but we also encourage them to be good people and good citizens. I really like being able to contribute to developing young people as well as horseback riders."
Andersen's experience as a school teacher has helped her relate to her students as a riding instructor. She says she knows different people learn in different fashions.
"I listen to the horse as much as I listen to the rider. It's just really important to watch and listen instead of spew out information. If the student can't understand the information, then they'll get lost. It's the same as teaching in school. Everyone learns differently."
Growing up on a farm, Andersen was always around horses. She says she has been riding since she was 6 years old.
"I've always had a horse. I wouldn't know what to do if I didn't have the farm. It would be awfully boring."
She knew that she wanted to ride horses, but her career as an instructor was somewhat unexpected.
"I did want to be a rider and I knew I wanted to teach in some aspect. I kind of tell people it was the best job I never knew I wanted."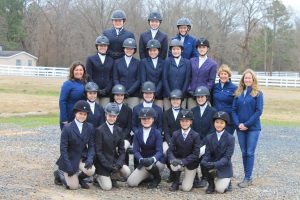 Now Andersen is teaching confidence to her riders. She shows them how to communicate with their horses to develop a bond.
"Whenever you finally feel that a horse is responding to you…there really is no better feeling. That's when you start to develop that bond between the horse and the rider."
In addition to riding lessons, Double Rainbow Farm in Haughton offers community activities like free horse shows. They also have camps, field trips and birthday parties. Andersen loves giving everyone the opportunity to spend time on the farm with the horses.
"It gives young people and older people a place to go that is safe. We have riders with disabilities, financial problems, home issues, abuse issues, developmental disorders—but we also say when you cross onto the farm then everybody is equal. It's a safe place for everybody to be."
At the end of the day, Andersen says it is all about making a difference.
"Making a difference in the horse's life, making a difference in the rider's life—I like to know that I made a difference even if they just come out for one lesson."
If you are interested in learning more about Double Rainbow Farm in Haughton, you can check out their website and their Facebook page.