From a Royal Princess Ball to a Trader Jane's Market, you're not gonna want to miss any of these Bossier events in August.
Inflatable Fest 2018
Bossier is bringing the bounce to extend summer fun for three events this month. Inflatable bounce houses and slides will bring interactive entertainment for the whole family to enjoy at the Pierre Bossier Mall. Food and games are available and tickets are $10 for the whole day.
When: 10 a.m. on Aug. 3,10-12
Where: Pierre Bossier Mall
For more information, visit their Facebook page.
Unfiltered Unwind Trivia Night
Escape the manic Monday funk and start your week with this fun event. Cure those beginning-of-the-week blues by boosting your confidence and challenging others at one of the most fun trivia nights in the city. Compete for prizes and also the title of the Champion of Unwind Trivia. Must be 21 or older.
When: 7:30 p.m. on Aug. 6
Where: What's on Tap II
For more information, visit their Facebook page.
The Liberty Collection by Drek Davis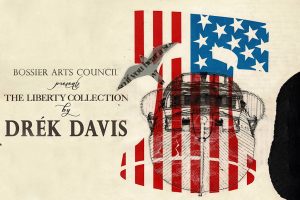 Don't miss your chance to interact with artist Drek Davis during his reception this month at the Bossier Arts Council. View several pieces of his work on display through Sept. 31. Check out the art as he guides you to explore the meaning of the word "color," both literally and figuratively.
When: 6 p.m. on Aug. 10
Where: Bossier Arts Council
For more information, visit their website.
Midway to Mardi Gras Coronation
Break into the Mardi Gras season – because it's almost the time to revel in events! Join the Krewe of Centaur as they begin the festivities to start the Carnival season. Watch last year's krewe pass the torch to the new XXVIII Royal Court.
When: 6:30 p.m. on Aug. 11
Where: Bossier City Civic Center
For more information, visit their website.
Trader Jane's Market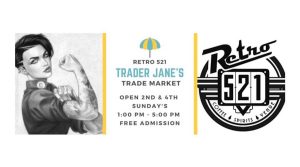 Browse through many handcrafted goods created by local artisans. Shop unique items and enjoy an experience where the community comes together. New vendors are welcome to apply for a booth. Retro 521 will offer this event multiple Sundays now through December.
When: Cafe & Coffee at 11 a.m. and Market from 1-5 p.m. on Aug. 12
Where: Retro 521 Coffee, Cafe and Venue
For more information, go to their Facebook page.
Starting and Financing a Small Business
Foster your dream and perfect your path to starting your business. Learn where to begin when writing a business plan. Nancy Knighten, assistant vice president – SBA specialist at Regions Bank, will walk you through the stages of setting up a business and will guide you through planning a business to achieve your goals.
When: 3 p.m. on Aug. 21
Where: Bossier Parish Library
For more information, visit their website.
Royal Princess Ball
Party with famous princesses from your childhood. Right out of each of the Disney movies, meet and get to know all of your favorite princesses. Bring a day of delightful experiences to your little one as they will enjoy dancing, singing, stories, games and photo opportunities.
When: 9 a.m. on Aug. 25
Where: Hilton Garden Inn
To purchase tickets, click here.
Eli Young Band at The Stage
Summer isn't over yet at The Stage. Enjoy a special Bossier City performance by the Eli Young Band. Known as a band of brother who are uniquely modern, this group writes their own songs but still sticks to their Texas beginnings. Don't miss a show that is just as fun for the crowd as it is for the band.
When: 5 p.m. on Aug. 25
Where: The Stage at Silver Star
For more information, visit their website.
Second Annual SIP Unlimited
Wine enthusiasts can plan on a spectacular evening benefiting the family of Lucky Palace's owner Holly Lim, whose daughter Tiffany Pippenger passed away in late 2017 from a critical illness, leaving behind a young daughter; and the family of International Wine & Spirits Perry Woods, who lost his life in May after a tragic accident and is survived his wife and two young daughters. This special event features a never-ending glass of some of the best wines paired with delicious food. Start your adventure in Margaritaville's event registration center in the main lobby where you will get an event map and a signature SIP unlimited wine glass. From here, your adventure begins throughout the resort casino. Tickets are $75-100.
When: 2 p.m. on Aug. 26
Where: Margaritaville Casino and Resort
For more information, visit their website.
Military Leadership Forum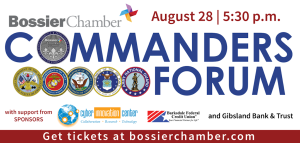 Learn more about what is happening in our military community during this annual event hosted by the Bossier Chamber of Commerce. Get familiar with the daily operations of Air force Global Strike Command, 8th Air Force, 2nd Bomb Wing and 307th Bomb Wing, Shreveport National Guard, Army, Marine Corps and Navy reserve units. Military leaders will answer questions from the community. Send questions to mrc@bossierchamber.com
When: 5:30 p.m. on Aug. 28
Where: Boomtown Casino and Hotel
For more information, visit their website.