It has been an exciting year for Elm Grove Middle School STEM (Science, Technology, Engineering and Mathematics) teacher Spencer Kiper. In late July, he was named the top educator in the state by the Louisiana Department of Education at the 12th annual Cecil J. Picard Educator Excellence Awards Gala in Baton Rouge. Kiper is excited to go on and represent Louisiana at the 2019 National Teacher of the Year competition.
"I was extremely nervous because I knew how much was on the line," he said. "I wanted to strive to be the first candidate from this area to represent the state. As the evening went on and the announcement was made I couldn't be more excited."
This is the first time Bossier Parish has had the overall state Teacher of the Year winner. Kiper loves being able to teach in Bossier. He enjoys being a part of the community here.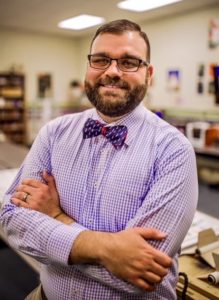 "What I love most is the community. I've learned to fall in love with the South Bossier community—not being from here, it has been amazing to be embraced and accepted here."
In 2006, Kiper graduated from Haughton High School. He then went to Bossier Parish Community College for 2 years and then did 2 years at LSUS to get his Bachelor's degree. As soon as he graduated from LSUS he started working as a teacher at Elm Grove Middle School. He is going on his 8th year teaching there.
"The leadership at Elm Grove has been very supportive. It has given me the confidence to move forward with my ideas. As a teacher you are always looking for those 'A-ha' moments. I get to see those so many times throughout the day and the school year. Bossier is a land of opportunity because we have an emerging cyber presence in the area. It has fostered the ability to have my STEM program."
Kiper focuses on showing his students the practical applications of science, math and technology in the real world. He says it can help them find a job so they can live and work in this area. His goal is to have his students head into high school with a general idea of what they want to do in their careers.
"To me learning is an organic experience that doesn't just happen in the classroom. As adults we are learning all the time. It happens in the work place or in our conversations with other people."
This is why sometimes Kiper likes to take his students out of the classroom so they can get the experience they need to become well-rounded people. He chose to teach middle school because that's where he felt he could have the best impact.
"My heart is definitely with middle school. My favorite age group are 8th graders. That is the point when if you can get them interested in their education, then they can stay interested throughout high school."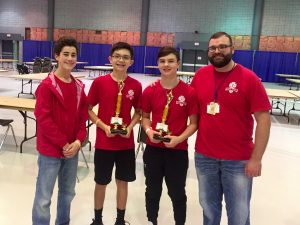 Kiper has spent four summers as a professional development specialist for the Space Academy for Educators program at the U.S. Space & Rocket Center in Huntsville, Alabama. He is also a Henry Ford Institute Innovator of the Year recipient; Civil Air Patrol National Aerospace Educator of the Year and was most recently tapped by STEM Revolution to travel to Dubai to train teachers from United Arab Emirates about innovative STEM instructional practices. He will teach a workshop that centers on space exploration.
"I'm excited to be a part of that because I get to take a little piece of Bossier halfway across the world to share with others."
During his acceptance speech, Kiper praised the educators that have made an impact in his life and inspired him to be the teacher he is today. He also gave special recognition to Elm Grove Middle School Principal Jennifer Armond for being an exceptional team builder who has further contributed to his success in the classroom.
"We have a great record of excellence and success in Bossier. We have an emphasis on developing teachers who understand students not only in academic needs, but also their social needs. They work with teachers to give them the support they need to support students."
Bossier Schools has hired a co-teacher for Kiper's classes this year because he will be in and out of the classroom as he travels to represent the state. He has been brainstorming a few ways to engage his students while he is gone like sending them videos. He plans on sending them videos while he is in Dubai, Washington D.C. and other places.
"My students are the ones that actively take on the challenges that I give them. My first priority is that they are along with me on this ride."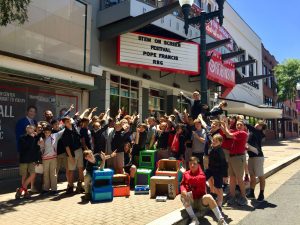 As part of his prize package, Kiper received keys to a new Mercedes Benz for the next year. He jokes that he doesn't know if he'll be able to give up the keys in a year.
"I've never sat in a car that expensive before, so the fact that I get this car for a year is so exciting. The car is just the icing on the cake. It's going to be hard to give it up in a year."
Moving forward, he is excited for the opportunities this award will bring.
"It's going to be an adventure and I'm glad everyone is on board with me."