Just down the road from the main gate of Barksdale Air Force Base sits a very unassuming building with a meaningful name – Café USA. Located on Barksdale Boulevard in South Bossier, the café serves as not just a place to fill up on a good, home-cooked meal or a cup of coffee. For many, it's a meeting spot, a hang out, their place.
Every weekday morning, if you come at retired time, which is about 9-9:30 a.m., you'll find the Café USA Coffee Club sitting straight ahead from the front door. You might never guess you could find a few Lt. Colonels, some Air Force chiefs and even the former chancellor of the community college gathered to chat about whatever is on their mind. On this occasion, five gentlemen sit visiting and even one of the wives was "allowed" to join the table for breakfast.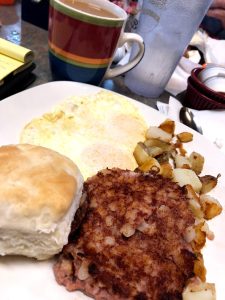 If you've ever been to Café USA to enjoy some pancakes or some yummy corned beef hash even, I'm sure you've seen this rowdy bunch. Perched behind their table is a memorial to just one of the many members they have lost through the years: "Our real hero," one of them pipes in – Lt. Col. USAF Ret. Dick Simmons. An empty chair holds a plaque placed in his memory along with some newspaper clippings about or from the group.
"He fought in the real one – World War II," they said. While not everyone in the group is a veteran, many of them are and the others have the utmost respect for the military and their service.
The group listing holds 15 men's names, and they've now lost 7 of them. Not everyone can make it every day and some barely get out to meet. But the legacy remains.
All of the men hail from different areas, and just a couple are from here, but they were brought together by a place that offered camaraderie.
Hugh Moseley credits starting the group around 2002-03 with Chuck Davis. And one-by-one they came, each member joined knowing someone else in the group but not necessarily knowing all of the other members. You would never know it today.
Café USA was a place that was close to each of their homes and it made an easy meeting spot. But now for them, and many others, it's like a second home.
"We get to know them and they become family" said Cathy Peterson, a server at Café USA who has worked there 11 years.
Café USA offers a 10 percent military discount and they see so many active and retired military come through the doors. Cathy, herself an Air Force veteran, said probably "90 percent of our customers are connected to the military in some way."
Many local groups – like the Retired Postmen, Retired Reservists and the Mason's High Noon Club to name a few – use the room in the back to host meetings.
All-in-all, the good food and the décor serves our local military and serves as a great homage to the country they have fought for. Believe it or not, most of the décor is donated. People bring it in and give of it generously to add to the ambiance. There are even storage buildings full of more USA-related items as the café itself can't hold every piece that's been lovingly given.
As you can see, there is no lack of military pride or support in Bossier and Café USA – and its patrons – are just one reminder of how beloved this community holds its active duty and reserve military as well as our veterans.
Location: 3380 Barksdale Blvd, Bossier City