It's fitting that in Bossier City's East Bank District, a place where historic buildings have been
given new life with new businesses, a retailer is giving antiques a second chance to find a
buyer.
The Antique Shoppes is a multi-vendor antique mall featuring vintage items, custom-built
furniture and home decor among hundreds of other items.
Ran by partners Trish Nattin and Barbara Brown, the store was opened four years ago and
offers 38 different vendors with a multitude of antiques, vintage, crafts, painted furniture and
repurposed items that are refreshed regularly.
"We have a lot of talented vendors that make things to sell. This is a one-stop shop. You can get
a ton of different things, especially when you're decorating," said Nattin.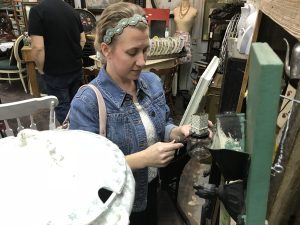 The store began as a collaboration of several friends and vendors. Nattin had owned Saved by Grace Antiques just a few doors down the street from her current location. After other stores closed or consolidated into the Antique Shoppes, Nattin moved to their current location and her vendors followed, with one of them — Brown — partnering with her.
"What makes me feel good is when our vendors are successful. When their products sell and they're happy, I'm happy. That makes it all worth it," Nattin revealed.
Their most popular items are antique clocks, furniture and decor in the popular farmhouse style.
In fact, Nattin pointed out that she has half a dozen vendors catering to that style. She said
millennials are really into vintage and mid-century modern, noting they flock to her store to
decorate their homes.
She points out their store is the only antique mall type store in Bossier City, which not only gives
her a built-in audience but sets her apart because different generations can shop together.
"Grandma can come in here and find something that's she's interested in and 12-year-old
granddaughter can find something she's interested in. I have a seven-year-old grandson who
loves to come up here on Sundays and sweep the floor because he loves to see all the old stuff.
I mean, the first time he saw a typewriter he flipped out!"
Lying in the East Bank District both before and after it was re-developed, Nattin has a lot of
perspective, saying that since the district opened that business has picked up a little bit. But
what really has helped is being the only antique mall in Bossier City.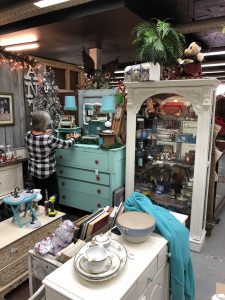 "People seek you out," she said. "We were established. Being one block off the interstate helps."
The district's proximity to the riverboats also helps their business. Nattin said the Antiques Shoppes sees a lot of people from out of the area whose wives shop while the husbands are gambling. In fact, she noted they open on Mondays because most people check out of the
hotels on Mondays and stop in her store before they go.
While retail is a labor of love with its demanding schedule and focus on customer service, Nattin finds joy in locating the old, vintage items and seeing what her vendors bring into the store. She also said that her 17 years at Horseshoe instilled in her that the customer is always first. That philosophy also extends to her vendors in the store.
"We adopt that philosophy here — if you cater to the customer, they will return," she said.
The Antique Shoppes is going to participate in the East Bank Shop Small Market Saturday, Nov.
24 beginning at 11 a.m. Nattin said that even if they don't set up a full blown merchandise booth,
there will be an informational booth with marketing materials.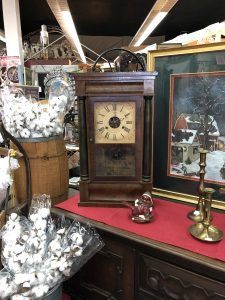 "People will be coming by the stores and places in East Bank as part of the event, so we look forward to it," she said.
The unofficial shopping holiday is important to her store. In fact, Nattin said they will be closing Black Friday because people don't tend to shop at her store that day, instead, seeing Small Business Saturday gain traction.
"Black Friday is for the big box stores. Small Business Saturday is more of a thing for us, I feel like it's taking off more and more here."