Bossier is home to many young, up-and-coming leaders. Whether they were born and raised here or relocate from across the country, millennials are becoming the next wave of business owners and community advocates who will move the parish forward. So let's meet one of those transplants who now calls Bossier home.
Jessica Carr is the 24-year-old editor behind the Be Bossier blog. She also serves as the communications assistant for the Bossier Chamber of Commerce.
A journalism and electronic media graduate from the University of Tennessee, she ended up in Bossier after some wonderful serendipity and has been in the community since this summer. A cinephile, she also contributes to a podcast called Cinematary and writes film reviews for its site.
So let's get to know a little more about Jessica…
1. How did you get involved with the Chamber?
In January of this year, I was living in Tennessee and working on a feature article for Forum News Magazine on Mardi Gras as a freelancer, and I happened to interview Chris Jay from the Shreveport-Bossier Convention and Tourist Bureau. He noticed that I had "content marketing blogger" in my e-mail signature, so he connected me with his wife, Sara Hebert, who was looking for an editor for the Be Bossier blog. Sara then connected me with Jessica Hemingway, Director of Communications at the Chamber. I flew over here just to meet everyone after landing the editor gig and Jessica offered me a communications assistant position with the Chamber in addition to the editor position. I had been praying for another job opportunity for a while and it really felt as though God had answered my prayers. Soon I was saying goodbye to the mountains and heading over to the bayou!
2. What do you like about it?
I love working with the Chamber team. We are a lot like a family and we always try to find ways to help each other. As the Communications Assistant, I am the social media champion for the Chamber. I try to find new and inventive ways to help promote our members. I love creating original content for our blog, e-newsletter and our website. Jessica is also helping me learn how to create graphics, which is something I definitely had little experience in. It has been an amazing learning opportunity for me.
3. What made you want to take on editing and guiding a blog like Be Bossier?
When Sara sent me the job description for the editor position, I was over-the-moon. The job required most of the skills I had gained as Editor-In-Chief at my college publication, but now I could put those skills to the test. One of my favorite things to do is think of original content for my writers. I'm always brainstorming about what blogs our readers would love to check out. Of course, my first love is food writing so when I get to visit a Bossier restaurant and interview the owner for a blog, then I'm really in my happy place.
4. How important do you think a campaign like Be Bossier is to the community and outside world?
I think it's very important because it showcases how amazing Bossier Parish is. Just from editing and writing for the blog, I have had the pleasure of hearing some remarkable stories about the people that live and work here. These are stories that are not only important to the community, but they are also important to the outside world. Anyone can be inspired by hearing someone else's story. It helps us gain empathy for one another and that is something that we should all strive for.
5. What has been your impression so far?
Bossier has really made its way into my heart. I have family that live here, so I've actually visited for summer and Christmas break every year since I was little. Now that I work here it is starting to feel a little more like home.
6. What are your goals for the future?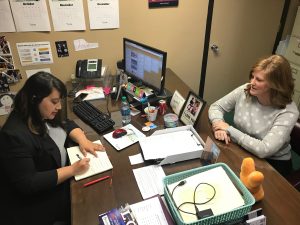 Becoming an editor at 24 was a goal that I didn't think I'd achieve, but now that I've reached that
bar I have to set my sights on even bigger and better things. I would love to be published in a national publication, as well as, publish my own book. In the future, I could also see myself working as the Marketing Coordinator for a film studio or traveling around the world as a food writer. The sky is the limit really 🙂
7. What is your favorite thing about Bossier?
Two words: The food. I've eaten some of the best dishes I've ever had in Bossier. From the spicy garlic pasta at L'Italiano to the house special roasted duck at Lucky Palace. I can always fill up on some tasty food here.
8. Where do you like to hang out and why?
When I have free time, you can catch me at Retro 521 having a cup of coffee or hanging out at the Bossier Library looking for a good book or movie to enjoy.
9. What would like to see Bossier have in the future that it doesn't have now?
I would love for Bossier to have an independent movie theater. As a cinephile, I'm always looking to enjoy the latest indie film on the big screen.
10. If you could tell people one thing about Bossier, what would that be?
I would tell them that it really is a hidden gem filled with delicious food, interesting people and amazing opportunities.
Want to read about more Bossier Millennial Pros? Check out last month's blog on Karen Wissing.