Growing up Bossier City native and regional filmmaker, Allison Bohl DeHart, often went to the movies with her family at Quail Creek and AMC at the Pierre Bossier Mall. She says it was their main form of entertainment.

"My dad would make sure we not only saw lots of films, but discussed them after on the drive home," DeHart says.
This sparked her interest in film from the very beginning. Her dad was a self-employed artist who was always working on a variety of creative projects. She says growing up around him seeded the idea that she could do the same later. Her mom was a nurse at Schumpert, so she learned organization and the joy of list-making from her. Both of her parents helped this Airline High Alumna become the filmmaker that she is today.
"My parents embodied the two most important skills in filmmaking which are creative thinking and organizing," she said. "My mom would have made a great film producer, if she hadn't gone into medicine. Those early activities and influences lead to me to becoming a filmmaker."
Now for the past 12 years, DeHart has made a living as a filmmaker in Lafayette, LA. She along with her husband and co-director, Peter DeHart, will be screening their documentary, "Bending Lines: The Sculpture of Robert Wiggs" on Thursday, January 10 at the Robinson Film Center. Following the screening, there will be a Q&A with the filmmakers.
"Bending Lines" is a documentary looking back at the life of Lafayette, LA based sculptor Robert Wiggs. It is a story of obsession, vision and the enduring conversation between art and science. It uncovers an aging amateur mathematician, obscured by time and his profession, whose artistic work communicates the universal quest to discover the essence of the natural world.
In 2012, DeHart and her husband decided to make the documentary after seeing an art retrospective of Robert Wiggs' work in Lafayette, but to their surprise they had never heard of him.
"He had a few outdoor public sculptures in Lafayette around the downtown area, but it wasn't until we learned the thought process behind making the sculpture that we felt compelled to make a documentary about him and his unique approach to developing sculpture."
She believes viewers will be intrigued by the documentary's subject matter.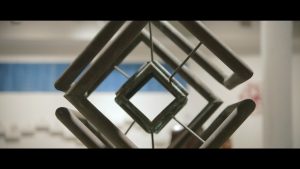 "Wiggs' approach to making scientific discoveries through the disciple of Visual Art awakes an exciting curiosity in the viewer," she said. "Nowadays people often feel that all knowledge has been discovered and there is little more to know. But 'Bending Lines' reminds you that there is much more to find and examine in our natural world."
DeHart is excited to come back to her hometown for the screening. She says that life was much simpler when she lived in Bossier.
"Looking back on it now as an adult , I enjoyed how simple life was. Weekdays were for schools, homework and family time. Then weekends were for going to church, watching movies, playing outside and going to the mall. Life feels much more scattered and busy now than before."
For more information on the "Bending Lines" documentary, you can visit their website.