You probably drive by the Bossier Municipal Complex and Civic Center often, and maybe even visit on occasion. While you might know that the venue plays host to a lot of really great events throughout the year, we want to share with you 5 facts about the Bossier Civic Center that you probably don't know!
1. The Civic Center was the brainchild of a former Bossier City Mayor.
The idea of the Civic Center originated from Marvin Anding, who served as Mayor from 1977-1983. His original vision was to have a Municipal Complex with a large event venue and an accommodating hotel.
The City Hall building was erected first and the Civic Center building was completed in 1987. It serves as the proud host to a variety of events throughout the entire year, with its busiest times during the spring and fall.
While Mayor Anding was onto something when he envisioned the potential growth of Bossier City calling for more visitor accommodations, the tourism industry produced plenty of hotels for travelers to stay at while enjoying the city and a hotel at the Civic Center was never constructed.
2. Only 7 people work at the Civic Center.
That's right! Just 7 individuals are responsible for the 52,000 sq/ft building and its 150+ events each year!
Kathy Davis is the Executive Director of the Civic Center, a position Mayor Lo Walker appointed her to in 2008.
Fun Fact: Mayor Walker was the 1st Executive Director of the Civic Center.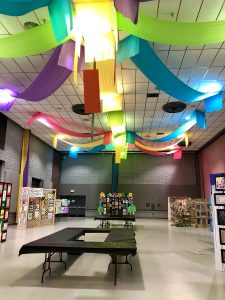 "There are 4 Event Coordinators," Davis explained. "They would be the ones who set up events, stay during the events, take care of any needs the customer has, plus doing all the bathrooms, trash carry-out, setting sound and if they need any electricity…kind of all of it."
Besides Davis and the Event Coordinators, there is an Operations Manager directly overseeing the events and an Event Services Manager who handles various logistics.
The entire team work carefully and diligently to ensure that all laws, codes, rules and regulations are followed to ensure that the events run smoothly and that the guests are safe.
3. The Civic Center can serve as a medical special needs center.
Desperate times call for desperate measures, and the Civic Center has made itself available on numerous occasions when the public was in need.
The building has a large washer and dryer as well as 2 showers and plenty of restrooms. More importantly in times of crisis, it can provide shelter, water and electricity.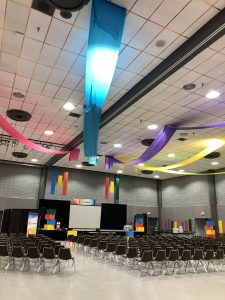 "When there's a disaster down south, we can house people, usually people from nursing homes," Davis said. "When they come in, there's a big medical staff that comes in, anything that they need – medication and all that type of stuff – can be put in the supply room that we've converted when they're here that has a lock on it."
The building space Davis was referring to can house 90 people on cots. The Department of Health and Hospitals coordinates with Bossier City and the Civic Center on such occasions.
Davis recalled 4 disasters during which the Civic Center was used as a Medical Special Needs Facility.
"It started back during Katrina, and then we had Hurricane Rita, then Hurricane Gus and Hurricane Ike."
The Red Cross also opened a shelter there for local residents in 2016 during the floods.
4. The Civic Center can make even the wildest event ideas a reality!
Maybe you've been to a wedding where the couple released doves, or perhaps even had their canine friends be a part of the wedding party. The Civic Center, however, hosted a wedding that actually had elephants carry bride and groom to the ceremony!
While live elephants are certainly hard to top, another wedding ceremony managed to do it with seemingly unending "wow" factors. A celebration that kept the Civic Center running day and night for 4 straight days taxied its bride and groom around in a real Mardi Gras float and then carried them off in a helicopter for a matrimonial joyride.
The Civic Center usually keeps strict hours of operation between 7-12 a.m., but exceptions were made in the case of this wedding. These 2 examples go to show that nearly anything is possible at the the Civic Center with enough planning and preparation!
5. The Civic Center is not a cash cow!
It's true! It is hard to believe that a government entity is not out to cash in wherever possible, but the Civic Center exists to serve the public.
"These venues are not money-makers," Davis stated assuredly. "These venues are built for economic impact and quality of life. It's to give citizens something to do, and when people come here from out of town they go to our restaurants and some stay at the hotels. They eat out. They go shopping…it makes a difference for our economy here. But these venues were never built to make money."
The Civic Center does not do any advertising for the venues that it hosts; rather, the event's sponsor is responsible for any promotion. The Civic Center does, however, post a calendar of events on their website that is worth checking to see what is coming up. Don't miss out on all of the great things the Civic Center has to offer!
Celebrities such as Sinbad, Cedric the Entertainer, Billy Ray Cyrus and Steve Harvey have all performed in the past. Other great attractions include dog shows, gun shows, arts and crafts, gems and minerals and a wide variety of student and school related affairs.
The cost to host an event at the Bossier Civic Center is quite low when compared many to other venues. You can view their fee schedule for events and weddings on their website or call for more information (318) 741-8900.