A job is best when it doesn't feel like work. And for Robin Jones, executive director of the Bossier Arts Council (BAC), she says that her "work" is more of a mission. A mission to help an artist.
Whether it is through support, brainstorming ideas, providing resources, or any combination thereof, Robin said helping give an artist the platform to go on and to create something beautiful is how she knows the BAC's job is done.
The BAC is a nonprofit that is passionate about the local talent in Bossier and strives to infuse arts and culture into the area. Robin notes that artists play many roles in the lives of others — improving cities, creating happiness, building bridges between cultures, evoking change and providing therapy.
But she warns that running a nonprofit is not for the faint of heart. She likens it to being a runner — there is always another lap up ahead.
"There is always another event to plan and another class to teach," she said. "But I love what I do and strive to make my community proud."
That is illustrated by the pride Robin takes in completing an event for the Bossier Arts
Council. She notes that for a brief moment, before that next metaphorical lap starts, she can look back and see their impact.
"I am lucky to have many of those moments," she said. "Being out in my community and seeing something that now has an artsy flair and knowing that I had a small role in it feeds my soul."
Now, the BAC has taken on an even bigger role in the community by managing events
for its own neighborhood, the East Bank District.
For many years, Robin said the BAC sat on Barksdale Boulevard with very few neighbors and had very little foot traffic during the week. That began to change when Flying Heart Brewing opened next door. With Retro 521 Cafe and BeauxJax opening in the district, the excitement and foot traffic has grown.
It was only natural then that the BAC be hired by the city to take over managing events in the plaza that lies almost right outside their front door.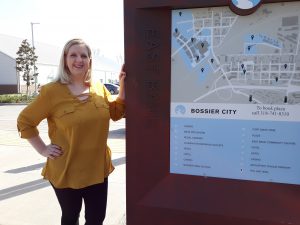 "It has taken a little while to work out getting the ordinances in place, but the mayor, administration, and the city council have been wonderful," Robin said. "We're booking major events and weekly community events, like the East Bank Market on Tuesday nights that has already been a huge economic boost for the area."
One of those bigger events has become ARTini. The signature fundraiser for the BAC, ARTini is a martini competition that brings out the best local mixologists to create a signature martini that vies for People's Choice, Judges Choice, and Most M'Artisinal.
ARTini also offers up the chance to thank a "Mover and Shaker" who has gone above
and beyond to support the efforts of the Bossier Arts Council. This years award winner is Steve Porter, a talented art teacher for Bossier Parish Schools.
Robin notes that when she talks about the importance of the event, she points out a few of the functions vital to the BAC's mission, which includes to change and upkeep three different galleries, teach classes, showcase artwork, provide outreach support, mentor students, write and administer grants, offer community events, showcase local artists, give tours to school children, run a theater, manage the East Bank plaza area, collect art supplies for teachers and coordinate Digifest South.
When asked what she likes about Bossier, she said a better question would be, "What don't you like about Bossier?"
"I will let you know when I come across something," she said. "This is such a unique and progressive city to work in. I want to scream: 'Don't be afraid of crossing that river!' We have some pretty cool things happening on this side of it."