"People always tell me I have a 'southern drawl,'" Megan Bowdon, owner and artist of The Southern Draw, explains. "We live in the south, I draw, and it's just a good play on words."
From bright and colorful animals, to beautiful portraits, The Southern Draw produces artwork that is much more than flat paint on a canvas. Megan Bowdon is a Bossier native and the artist behind the paintings and designs.
With the exception of attending college in Ruston and an internship in Dallas, Bowdon has lived in Bossier City for her entire life.
"I have drawn and painted for as long as I can remember," Bowdon said.
During elementary school, she placed in two art contests. One of those contests was a photography competition at the Red River Revel. Bowdon was in the fourth grade. You could say she's always been a jack-of-all-trades.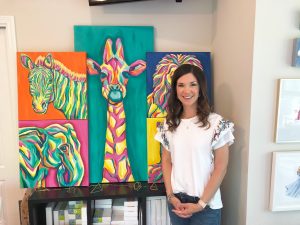 "I took art/painting lessons all throughout elementary school and painting or crafting was where you could find me after school most days," she said. "I painted and created in the talented arts program in junior high and then took art classes, both at Airline and BPCC, in high school."
When she became a Louisiana Tech Bulldog, she almost majored in Studio Art, but she decided to pursue a degree in Interior Design. Bowdon explained that throughout her college experience, she was exposed to more interior design and architecture, graphic design, painting, art history, color theory, photography and drawing.
"I graduated with endless possibilities." Bowdon said.
After graduation, she began working in interior design in our neighboring city of Shreveport. Bowdon worked for five years and then her first baby came along.
"When she came along, I decided to quit my job and stay at home with her," Bowdon explained. "But I still needed a creative outlet so I started painting again and taught myself graphic design and that is how The Southern Draw was born."
From a home-based studio located right next to her children's playroom, Bowdon paints, designs stationary, as well as paper goods. She also owns her own t-shirt company and creates paint graphics for Sign Gypsies.
"I love to turn my artwork into other things, like taking a painting and making pillows, t-shirts, etc. with all the designs," she said.
Her style can be described as bright, fun and cheerful, but Bowdon says her style is forever evolving, just like any artist.
"Right now I like painting and designing bright and colorful things, but I still love to paint the classic, more neutral tones of oysters. Although, I like to throw fun colors in there whenever possible," Bowdon said. "I like to think outside of the singular flat dimension of just a canvas by adding elements to the canvas or painting on different things entirely like doors, walls, wooden blocks and ornaments." 
All of her artwork can be purchased through her Instagram (@thesoutherndraw) and Facebook pages. In addition, she also takes on commission work for paintings, portraits and stationary. This is where the challenging part becomes getting an idea from her head onto the canvas.
"I love exploring how light and shadows create all things and how to take a creative spin on all of it with color," she explained. "I love putting a fun spin on ordinary subjects with color, playing brush strokes, and light."
So, why does she do business in Bossier?  
"People here support local in a big way," Bowdon said. "They use their hard earned money to support people in Bossier and that's a really big deal."
The Southern Draw is a great example of local talent.  
"I have heard people say that Bossier doesn't have much to offer, but I completely disagree," she said. "So much talent in our own town, from artists, to photographers, designers, chefs, bakers, musicians, singers and so much more."
Creativity is just one of Megan Bowdon's many characteristics. She is passionate about her faith, her family, her friends and her artwork. She loves working and living in Bossier.
 "I am convinced some of the best people on the planet live in Bossier," Bowdon said. "I have amazing people in my life and so blessed they live here."