For the Spanish version, click here.
By discovering the hidden places that Bossier has to offer, we find ourselves in a small restaurant different to all. Mi Pueblito is located in 1890 Airline Drive, next to the Super One. Laura Monzon and Enrique Ramirez are the owners of this restaurant. The two owners love having a business and they decided to bring an extravagant dish to the people of Bossier.
"We saw that it was possible to bring a piece of Mexico to this region through its authentic gastronomy, and we didn't think twice. Our passion for shining a light on these authentic Mexican snacks helped us bring this crazy concept of eating seasonal fruits to another level," Enrique said.
The Crazy Watermelon is one of the most demanded products at Mi Pueblito. The summer fruit is cut in half and filled with all kinds of Mexican sweets, other fruits and chamoy. Be Bossier first heard of the phenomenon by 20X49 blogger Chris Jay.
Visiting Mi Pueblito with your family allows you to have an adventure without leaving Bossier City. You can also show your children a fun way to eat healthy while daring them to try diverse things. This snack is full of citrus flavor, with a bittersweet mixture of lemon, salt and spice. It is definitely a new and extraordinary experience.
The two owners love living in Bossier.
"Bossier is a beautiful place to live and enjoy with your family. It offers lots of cultural diversity, that's why my husband Enrique and I decided to move here with our children," Laura said. "We're always looking for things to do together as a family, that's how the idea of creating 'Mi Pueblito' came about. A place where families can come and enjoy something different."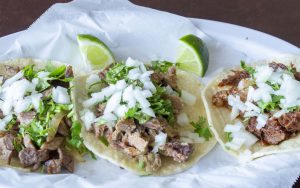 Mi Pueblito also offers a wide variety of appetizers, such as pork rinds, tostadas, loaded takis and if you are hungry, try the tasty tortas and tacos, accompanied by refreshing natural fruit waters. Mi Pueblito opens every day from 9 in the morning to 9 at night. This summer, you can challenge your palate to navigate the street flavors of authentic Mexico, all without leaving Bossier City!