Bossier has a healthy economy with a variety of opportunities, making it a great place to start and run your own businesses. One of those residents who is her own boss is Heather Frazier.
The 44-year-old Bossier native owns her own accounting and bookkeeping firm, Frazier Financial.
"I can help clients the way I want to help them. I can go into their offices and really become part of their business and not just a service provider," Heather said.
After moving to Florida, during her college years, she worked at an accounting office as the receptionist. She picked up knowledge little by little, working her way up to manager of the bookkeeping department and a Certified Pro Advisor with Intuit for QuickBooks. She began her career by accident but grew to love it after she found she could help business owners understand a side of their business that many people don't.
"I love the spirit that business owners all share. That passion becomes bogged down with the numbers," Heather explained. "I can step in and help them do that part of their business and leave them to do what they love to do."
She left that position to open several restaurants with her ex-husband, which sparked her love of being an entrepreneur. After moving back to Bossier, she used her skills to work as Accounting Services manager at a large regional CPA firm. However, she wanted something different and left to open Frazier Financial.
"I love the flexibility that being my own boss allows me," Heather said. "My son just graduated from Airline High School and owning my own business allowed me to take the time off to be with him for his last year of high school."
She loves getting to work on her own terms, not striving for what someone else believes in. But owning her own business still has its challenges, such as balance. Heather says running a business, going to school full time, and being a mom, wife, daughter, sister and friend has her spread thin in some areas. But he she is able to cope by having a giant support system.
"Everyone I love has pushed me to where I am today," she says.
One of the experiences that made her realize how much she loved her job was when she went to a new client's office to take all of their business accounting and put it in a system and print out reports to show the owner how his business was actually operating.
She revealed, "He was excited and thankful to be shown something new and discuss what could be changed and integrated to ease his duties on the accounting side. That's what I love about my job."
She says as a "Bossier girl" being a small business owner in Bossier is convenient. She describes the business environment as "helpful," saying that from the start, she has been supported by everyone she has come into contact with.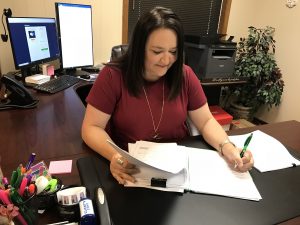 "From the Chamber to other business leaders and contacts, I have been completely helped along the way," Heather said.
And that's why she advises fellow small business owners to get involved.
"The Bossier Chamber is a good place to start. There are tons of resources if you search for them," Heather said.
In the future, she hopes to grow her business by nurturing her clients and helping them grow their own business. She also hopes to hire a few people to help them achieve their dreams.
"And if you need someone to help you with your bookkeeping or accounting needs, let me know."