When you're craving a nice cold brew, where should you go? Here are some of the best places in Bossier to stop by and grab a beer!
Cork and Barrel

Location: 5212 Airline Drive, Bossier City, LA
The Cork and Barrel has become quite popular not just for the beverage selection but also for its food.  Located a short drive north of I-220 on Airline Drive, the establishment is perfect for those living and working in North Bossier. Crystal Garza, General Manager, says the Cork and Barrel is catching on as the place to go in North Bossier.
"We're going on five years now and it's really Bossier's best kept secret,"explained Garza. "It's fast becoming the major hang-out for all the neighborhoods in North Bossier and Benton."
And if you're adventurous in trying out different beers, there's no shortage of variety.
"We have 30 beers on tap. We try to have seasonal beers every quarter so right now we're getting Oktoberfest and more Fall flavored beers soon."
Louisiana beers are on the menu such as Great Raft, Abita, Flying Tiger, and Cane River. Plus there's a super selection of wine offerings as well.  For the undecided or curious, flights of beer and wine are available. In addition to being a great place to relax with a cool beverage, Cork and Barrel has a full-service kitchen that features a menu ranging from seafood to steak, pasta to Po Boys and hamburgers.
Perfect for a casual happy hour or dining experience, Cork and Barrel is one place not to be missed.
BeauxJax Crafthouse 
Location: 501 Barksdale Blvd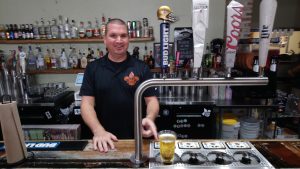 BeauxJax Crafthouse is the outgrowth of a dream. It all started with a couple of Louisiana-born buddies with a passion for high quality Cajun cuisine. They started as a food truck and then opened their brick and mortar as they say, the rest is history.  Situated in the East Bank Arts District, BeauxJax Crafthouse is a great place to quench a thirst for cold craft brewed beers, wines, or cocktails while watching the game on the big screen or trying your hand at pool or darts. Manager Brian Reeve says a big draw to BeauxJax is local beer and local food.
"We pretty much sell all Louisiana beer," Reeve explained. "We have all the national brands but locally we have all the Great Raft beers which is Shreveport, we have the Flying Tiger brand which is from Monroe, we have Parish which is Broussard, Louisiana and we have Abita which is Abita Springs."
For the cocktail crowd,  the bar also serves vodkas, gin, and whiskey that are distilled in Louisiana.  And the food is best described as what you'd expect to find anywhere south of Interstate 10 in Cajun country.
"When you come here, you get the good flavors from the food and great beers made right here in Louisiana."
The restaurant atmosphere is down home Louisiana hospitality with a casual feel that makes anyone feel welcome.  And if you come for the drinks you'll definitely stay for the food as the menu has all you'd expect from folks who take their Cajun food seriously.  From Jambalaya to Gumbo, seafood to steak and more, BeauxJax Crafthouse won't disappoint.

Flying Heart Brewing
Location: 700 Barksdale Blvd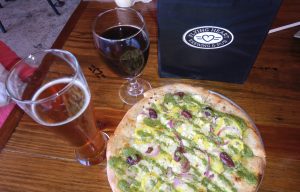 What began with a couple home brew enthusiasts grew into the only brewery currently located in downtown Bossier.  Flying Heart Brewing is located in what was a fire station right in the heart of the new East Bank District. And in the short time since it started it has undergone a few major changes, first enclosing the front patio and adding a relaxing beer garden out back.
One of the newest co-owners Kirstie Gilliam says the major reason this place is great for enjoying a few cold ones is the variety and freshness.
"We brew our beer in-house," explains Gilliam.  "Ben Hart, one of the co-owners, is the Master Brewer and he brews every Wednesday. Originally we started out with 7.5 barrel tanks but we've just upgraded to 10 barrel tanks to increase our volume to meet the growing demand."
Variety comes from Flying Heart brewing seven styles of beer but mixes up the offerings with five different seasonal beers.  And the kitchen also provides many types of pizza and appetizers.
Chimi V's Fajita Factory 
Location: 2050 Old Minden Road
Nestled on Old Minden Road just east of Benton Road is what some locals say is a great place for cold beer, Margaritas, and south-of-the-border flavors.  Chimi V's Fajita Factory has been labeled as a mix of Mexican and Southwestern cuisine. This establishment has taken residence in what was once the venerable El Chico's Tex-Mex restaurant. The atmosphere is a funky blend of colorful border town decor. As for dropping in for a cold beer, General Manager Jared Wilkinson says there's plenty to choose from.
"There's twenty-nine beers pouring from the tap," explained Wilkinson. "Plus there's thirty big screen TVs all around so you catch any number of sporting events while you enjoy your beer."
And of course there's the wide assortment of Mexican food.  But one recommendation for the undecided is nachos, only these are not your ordinary nachos.
"While we're known as Chimi V's Fajita Factory, if you really want to try something that's cool you should ask for the Trashcan Nachos," suggested  Wilkinson. "We take a large can, layer it with tortilla chips, refried beans, pulled pork, white queso, tomatoes, jalapenos; multiply that three times and you have nachos you'll never forget."
Chimi V's Fajita factory will have you coming for the happy hour but staying longer for the food.
Riverview Restaurant and Brewhouse
Location: 777 Margaritaville Way
If it's a bar with ambiance and views you seek, then you can't go wrong with the Riverview Restaurant and Brewhouse located inside the Margaritaville Casino and Resort in Bossier City.  Featuring delicious food and a huge selection of craft beer, along with a full-service cocktail bar, this place has it all. The focal point of this establishment is the brick oven which not only handles pizza but also seafood and desserts.  The long bar with a sliding library ladder is reminiscent of a "bucket list bar" you'd expect at some resort in Las Vegas. Two floors make up this bar masterpiece as a sweeping staircase transports you upstairs to a private room for a variety of  modern bar games. Downstairs is a great venue for dinner and drinks with a perfect "magic hour" view of sunset on the Red River.