Cody Dollmann, an Army veteran of two Afghanistan deployments, suffered a traumatic brain injury when his vehicle hit the last of the dozen IEDs he survived. Flown to the huge U.S. military hospital in Germany and placed in a medically induced coma to reduce the brain swelling caused by multiple concussions, he slowly made his recovery and was released to finish out his assignment in Afghanistan with his unit, the 10th Mountain Division 3-71 CAV.
Once home, he faced his new reality – the constant stress and anxiety of PTSD, along with massive migraines that lasted for hours. After months of therapy and medication, he wanted a positive way forward.
"My mom and dad suggested getting a service dog," said Cody. "I was a skeptic about their capabilities for helping mental illness, so I started to do some research into them. I also consulted my therapist and psychologist. They said that it might be something to investigate because it has made improvements in a lot of their patients."
Cody contacted Daniel Murray, the certified dog trainer and founder of the Bossier nonprofit K9 Karma, who quickly agreed to help Cody find and train his PTSD service dog.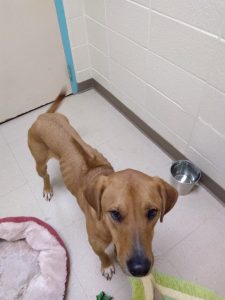 For about a month, Cody and Daniel checked the Humane Society and the Caddo and Bossier shelters. Cody found lots of good dogs, but he was looking for a very specific companion. He was making the rounds again when he saw a golden brown 18-month-old dog at the Bossier shelter.
He immediately called Daniel, who met him at the shelter to assess the dog's potential as a service provider. He was a tall dog, but not large because he was so emaciated. The strip of slightly darker brown hair sticking up and growing in the opposite direction along the starving dog's backbone meant he was a Rhodesian Ridgeback, a breed renowned for their protective instincts. 
"He was all skin and bones – 40 pounds when he was supposed to be around 70 to 75 pounds, but it was the look he gave me through that chained fence that grabbed my attention," said Cody. "He had the same look in his eyes as I did in mine for years, the eyes of abandonment, like the world around him, just gave him up and had nothing left to do with him. So that's when I decided we would build each other up, work together to get through all our hardships."
"After talking to some of the staff about 'Wonder' (now called Copper, after the dog in the movie "The Fox and the Hound"), they told me that he was abandoned along with both of his brothers in a house no one lived in," said Cody. "They had no water, no food, just each other. He apparently barked so long that someone called and that's when they found them. Sadly only two made it; Copper and another brother who was adopted pretty early due to his smaller size. No one adopted Copper and soon they were going to have to be forced to put him down."
"He had seen Copper and fell in love with him," said Daniel. "Due to the state of health Copper was in I was a little skeptical, but I figured if he was willing to put in the time to care for Copper and nurse him back to health, chances were high that Copper would be a very loving dog towards him. It has so far worked out tremendously. He took to it quicker than any dog I have worked with. He was finally shown love and was quick to return the love."
Daniel, a Marine Corps veteran, has placed about 20 PTSD service dogs through K9 Karma, which operates entirely off donations. He studied dog training as a K9 police officer, at Penn Foster University, and through years of experience training service dogs with veterans, a process that can take up to two years. No veteran is charged for their service dog or for Daniel's training and he encourages all the veterans to get a shelter dog.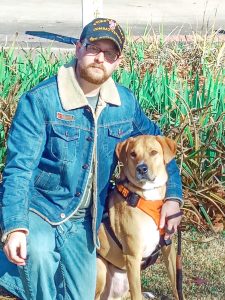 "There is not any specific breed of dog that is better than the other," said Daniel, owner of Gumbo, a rescued Corgi-Pit mix. "They are in rescue because they were mistreated and unloved. When they meet a veteran in need and see that the veteran truly loves and cares for them, they bond with that veteran easier. They are extremely loyal and caring due to the fact that they too have seen the love and care given to them."
Cody is now training for a career in cybersecurity engineering and lives in Bossier with his wife, Amber, a staff sergeant in the Air Force stationed at Barksdale. He wants to help guide other veterans and their dogs toward the loving working relationship he has with Copper.
"Within the year I have high aspirations of helping others like myself, find a companion they can rely on," said Cody.