Soaring above the clouds, Christin Hart Voor isn't the only passenger in her military aircraft. She is one of only a handful of female pilots that have flown while pregnant. To Voor, there is nothing else she'd rather be doing. 
"My life has changed a lot by becoming a mother-to-be. I was so surprised by how hard pregnancy is. I'll feel queasy, but as soon as I get on the plane and start flying, then all my symptoms go away. I'm just so elated to be in the aircraft." 
Major Christin "Sparta" Voor was stationed at Barksdale AFB in April of 2019. She serves as the USAF Division Commander, Test Pilot, and B-52 Pilot/Instructor at the base. She has dreamed of being here since she was just a small child growing up in Houston, Texas. 
The signs were all there from the space shuttle tricycle to the Thunderbird Barbie, Voor was in love with space and flying. After her family moved to California, Voor remembers her parents taking her to air shows there. That's when she saw something that would change her life. 
"I remember being 7 years old and seeing the B-2 bomber for the first time. It looked like a spaceship. It was amazing and I think that's a direct correlation with me being here and being a bomber test pilot now." 
And then the game plan started to form for Christin, at the age of 13, when her father asked her the question that most kids get asked at that age. What do you want to be when you grow up? She knew that she wanted to fly in space, so she came up with this plan:
1. Go to the Air Force Academy to get BS in Astronautical Engineering 
2. Go to MIT and get a masters degree in AeroAstro Engineering
3. Attend Euro-Nato Joint Jet Pilot Training 
4.Go to US Air Force Test Pilot School and get an MS in Flight Test Engineering
After years and years of school, Voor completed her plan. So…how did she end up in Bossier? 
After she graduated from test pilot school, Voor served as the B-52 Flight Commander at Edwards Air Force Base. After that assignment, she said she wanted to keep flying the B-52 so they asked her if she wanted to be a test pilot for the B-52 at Barksdale Air Force Base in Bossier. She happily agreed to the assignment. 
"I'm the only one of my kind here and I'm so grateful because I love it." 
What does it take to be a pilot? Voor says you have to be able to multi-task checking everything from airspeed to altitude and more. 
"You have to manage all these tasks at once and be calm, cool, and collected. You have to be happy and enjoy it so you can think." 
The road to getting where she is today wasn't always easy, but Voor stayed determined over the years.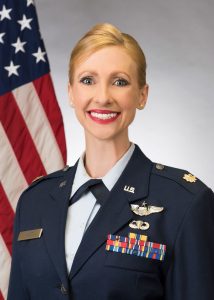 "As soon as I graduated from pilot training, the next thing I said was I have to get into test flight school," Voor said. "Every waking moment of my life has been I need to get to the next thing. It's what drives me. It helped me develop better relationships…The road to becoming an astronaut is so thrilling."
And that's the one thing Voor still has on her to-do list. She wants to become an astronaut and fly in space. But, she still has time to keep applying.
"I want to continue to apply to be an astronaut. I would love to fly in space. It's what made me want to be an engineer and a pilot in the first place." 
Until then, Voor is enjoying everything life has to offer which includes the thing that was a little unexpected for her. When Voor was driving from Edwards AFB to Barksdale, she stopped in her hometown and that's where she met her future husband. Now the husband and wife are expecting their first baby. Voor wants to keep flying while pregnant because it's something that makes her happy. 
"I just know that I want to set a great example for baby Charlene," she said. "I want her to experience the adventures that I partake in. I want to see more women succeed in aviation. If it is safe enough for me, then I think it's safe enough for my baby." 
There is enough data showing that it is safe for Voor to fly, so much so, that Air Force doctors give permission to female pilots to fly while pregnant. According to Voor, research shows that it is completely safe for them. She feels confident that God is looking out for her while she is soaring through the air. 
"I've made my peace with God and I always try to live with a clear conscience. I know that God and his guardian angels are always helping us. I rest easy and feel confident in the Lord." 
While Voor is very career-driven, she still wants to focus on spending time with her children. This is something she has been thinking about as she continues to grow her family. But she will always keep flying close to her heart. 
"I'm going to keep flying until I'm past age 95."
B-52 photo courtesy of Chad Slattery