For the fifth consecutive year, the LHSAA State Wrestling Championships will be hosted in Bossier City at the CenturyLink Center. Area fans won't have to travel far to see their favorite teams compete as local wrestlers battle it out for state title glory in their own backyard.

"The CenturyLink Center is an amazing venue for this because it's big enough to host all the families and teams comfortably. Fans will be in there watching for a long time, and it's spacious enough for them to relax and have a good time," said Matt Hammock, Strategic Partnership and Sponsorship Manager of the Shreveport-Bossier Sports Commission.
"Wrestling has grown in this area so much. We have so many strong teams competing and there's a local feel to it getting to compete here. Some local teams travel all over, so getting to compete at home is a big thing. Just like any sport, you'd rather play at home."
The two-day tournament kicks off on February 14 at 9 a.m. Doors open at 8 a.m. From diehard wrestling fans to people looking for a family-friendly weekend event, this action-packed slate is certainly worth adding to the calendar.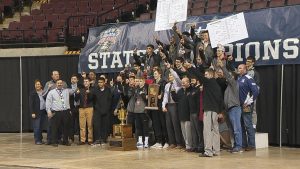 "Even if you don't have a kid in the hunt, come out and support your favorite school," local parent Jeremy Gallman said. "These kids need our support and backing to keep growing the sport. Do you want to see an exciting sport? This is it. Wrestling is a different world and the excitement is there.
It's also just a great chance for younger kids to come out and get introduced to wrestling. There may be young kids out there that may want to try out wrestling or just see what it's about. This is a perfect opportunity to expose them to that."
Benton, Airline and Bossier High are just a few of the teams that will hit the mats, as well as two-time defending state champ Parkway looking to defend its Division II crown.
"It's really good for our area because Parkway, Airline, Benton and Bossier all root for each other," Gallman said. "They all support each other against the teams from south Louisiana; you want to keep the championships in your area."
Between the excitement, intense competition and camaraderie, all the makings of a thrilling sports weekend are in the mix.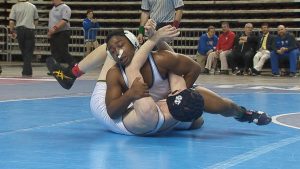 "You won't really understand the wrestling community and culture until you see it in person," Hammock said. "Coming out and watching these kids that have been training year-round for this; it helps you develop a real appreciation for the sport. You see the true emotion and passion these young athletes have, and see some of the top  athletes in the state do some really amazing things."
Photos coutesy of KTBS