If you're looking to eat healthier in 2020, you might find that it can be a challenge, especially when it comes to eating out.  Bossier Parish has some wonderful restaurants and cafes and with a little effort, you're bound to find tasty items that help you stick to your diet plans.  Plus, you may be surprised to find that some of your favorite places offer delicious and healthy choices.
Salads and Veggies
Monjuni's Italian Cafe & Grocery on Airline Drive is one of several locations of this popular casual Italian eatery that has grown to include numerous locations across Louisiana. Menu items include such Italian classics as spaghetti and meatballs, lasagna, salads and more. 
But there are things on the menu that can appeal to anyone who is looking for something to eat that is satisfying but also lighter.  Owner Lisa Cariere Susano says customers seeking reduced-calorie meals look at their salads as an option.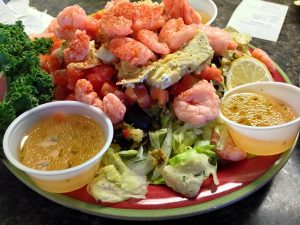 "If a customer is looking for a low-carb option our Monjuni's Lite Salad is a better choice," explained Susano. "We have a lot of salads on our menu and for people who are on a keto-type plan, they'll often get a Caesar salad with grilled chicken." 
A favorite is the Monjuni's Lite salad featuring smoked turkey breast, tomatoes, and baby corn over shredded lettuce with a twist of lemon.  A tip to make it lighter is to have the Cajun dressing served on the side or choose Italian dressing. There's also a healthier version of the venerable Muffaletta but instead of meat, it is a vegetarian version.
"A lot of people will get grilled chicken or meat without the pasta," Susano added. "And they'll add a side of vegetables to keep it lighter without the carbs.
Dishes From Down Under
Outback Steakhouse is naturally known for steaks and its fried bloomin' onion appetizer.  But did you know it has some incredible grilled entrees that are perfect for anyone wanting to lower calories and cholesterol?  Joshua Stapleton is managing partner for the Outback Steakhouse in Bossier, he says his staff is always knowledgeable on helping customers choose healthier options.
"We have customers who come in and say they're on either a keto or paleo-diet program or need gluten-free options," Stapleton explained.  "We have a nutrition chart that helps explain everything from calories to cholesterol amounts and can make recommendations for anyone wanting a healthier meal."
One thing that customers choose is the "perfectly grilled 10-ounce salmon" which is wood-fired grilled and served with seasonal mixed vegetables.  (700 calories, 4 grams saturated fat, 90 mg cholesterol) Another is the large Ahi Salad over coleslaw which many choose as their entree. (520 Calories, 4 grams of saturated fat, 45 mg of cholesterol)

"Just about anything on our seafood section or anything that is grilled is going to satisfy customers who are watching their diets," Stapleton said. "We offer many meals under 600 calories and you can check our menu to see a wide variety of choices."
Healthy Shopping
Sunshine Health Foods has been in business for over 40 years and has become a resource for anyone seeking healthy choices. If you'd rather make your meals at home, the store is a great place to find healthy produce in Bossier as Sunshine Health Foods touts itself as a place for people, who are serious about their health.  
"Our focus is to bring you nutritious, organic fruits and veggies, and healthy food products," says owner Sheila Hamaker.  "With it being a new year, I'll have customers come in each day who are looking for anything like gluten-free options, a paleo option, or keto option. We offer a wide variety of food in all of those categories."  
Sunshine Health Foods in Bossier also has a small selection of organic meats. And to satisfy a sweet tooth during Mardi Gras, they offer Prep Cakes which can be a meal replacement sweet treat that has protein.  
"We recommend people to always check with their physicians before starting out on a new diet regimen," said Hamaker. "Our staff is knowledgeable and can make recommendations but it's always a good idea to share your plans with your doctor first." 
Mediterranean Diet 
There has been much said about the healthful benefits of eating a Mediterranean diet which research has shown promotes a healthy heart and longevity.  And the Greek Corner Restaurant in Bossier has it all. Haitham Darazi and his wife Joanna are co-owners and have had the restaurant since 2000.

"Everybody has seen the stories about the healthy Mediterranean diet in the news and featured on National Geographic programs," explained Haitham. "I use all-natural spices I buy from a centuries-old market in Lebanon and use simple homemade recipes, nothing artificial."


Among the most popular items are chicken shawarma, lamb kabob, and the Gyro which is a careful blend of 85% beef, 15% lamb.  The Greek salad topped with chicken is also a favorite with folks who are into fitness.

"I have many customers who work out and looking after their health and they ask for things like the Greek salad with the chicken shawarma on top," Haitham said. "There's very little fat in many items and everything tastes really good."
So if you're looking at cutting calories while eating out or at home, there's several healthy alternatives that can please your appetite without weighing you down. It's all a matter of taking a moment to study the menu, ask your server for options, and make a healthier choice.