Snowpocalypse Brought Bossier Families Together
The Snowpocalypse of 2021 brought Bossier Parish families together. Residents played and shivered on the coldest days since 1903.
By Kathleen Ward
Most of us just experienced the coldest days of our lives. The average temperature range for February in Bossier averages between 61° to 41°. The last big February freeze was in 1903 when temperatures dipped into the teens. We smashed that with a low of 1 F the week of Valentine's Day 2021. Still, it didn't match the February low of -5 F set during the Great Blizzard of 1899, an event dubbed the "Snowpocalypse."
The Bossier 'Snowpocalypse"
The Morrison family, Toby, Lisa, and sons Jake and Nick live in North Bossier. Lisa, a first-grade teacher at Bossier's Providence Classical Academy, calls the weeklong weather event "Snowpocalypse 2021." She also said the family found much to enjoy, despite the uncomfortable cold.
"I have been using the unexpected time at home to catch up on projects around the house. And, I'm finally getting to tackle organizing closets," said Lisa. The relaxed pace has given the family more time to read, cook, and catch up on sleep and their TV watchlists. "We have also enjoyed feeding the birds. It has been a blessing to take the time to slow down and actually notice all the beautiful local birds in God's creation."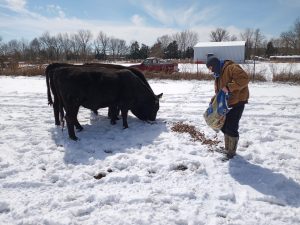 The Morrisons raise Angus cattle and have other outside duties associated with living in a semi-rural area. "I assist in caring and feeding of the cattle, as well as building pens and any odd job that needs doing," said Jake, a tenth-grade student at Providence, where he is in the National Honor Society and a member of the Junior Classical League (Latin Club). Indoors, he read sci-fi, watched funny YouTube videos of animals, and played board games with his brother, Nick, a seventh-grade student at Providence.
Black Bayou Freeze-Out
Kris and Mindy Blaylock of Benton and their three sons, Brendan, Brady, and Brooks, started each "snow day" with a hot breakfast before venturing outside.
"The big lake by our house was frozen, and (at one point) my phone read 0 degrees at 7:00 in the morning," said Kris. The family lost electricity but stayed upbeat about it.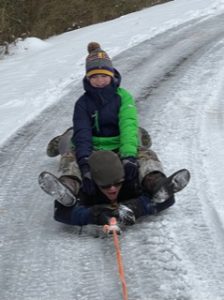 "We had fun exploring around the neighborhood and seeing Black Bayou, where we live all frozen and covered in snow," said Kris. "We were pulling the kids behind the ATV on boogie boards, riding the sled down hills, building a snowman, having a snowball fight, and making ice marbles by freezing colored water in balloons".
"We watched movies, did puzzles, and played games. The best part of the week has been having our college kiddo back home from Louisiana Tech in Ruston. Having everyone together under one roof has been a special treat."
As an essential worker, Kroger pharmacist Kris's 'snowcation' was short, and he started back to work on Thursday, stopping to pull two cars out of the snow. They had a few outages during that week, and Brooks, 10, was happy when the water started flowing again.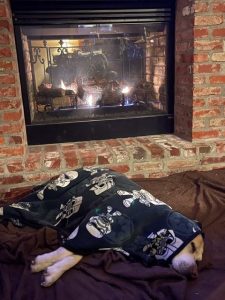 "Being snowed in has been a lot of fun," said Brooks. "I have been playing in the snow, playing video games, watching movies, hanging out with my brothers, and eating a lot of snacks." Their dog, Biscuit, "is loving this weather because she has been laying by the fireplace and spending time with us all week long."
Content at Home in Bossier City
His grandparents, Barbara and Norvel Blaylock, also of North Bossier, got a Shih Tzu puppy months ago and have enjoyed watching Emmi Lou confront her first snowfall. They ventured out to the grocery store at the end of the week and were astounded by the number of people picking over the last of the least-wanted staples since many shelves and refrigerated cases were stripped bare. "We talked about how blessed we are for the roof over our heads and the dry safe place we do have. And, we prayed for the essential workers."
Mostly, the couple stayed home and kept in touch with Kris and his family and daughter, Kristi, whose family in Tyler had the Texas-sized problems the rest of that state had to endure. "We talked to our children," said Barbara, "and took Emmi Lou out for potty breaks, which was hard because the snow was over her head!"
These are just a few of the positive stories of Bossier Parish citizens enjoying life and doing great things for each other. We have many more for you to read! Check out our archives at our homepage BeBossier.com. While you are at it, check out our Annual Manual for great information and things to do in Bossier Parish when it is not the Snowpocalypse!