10 Things to do in Bossier Parish
After a long confinement period, we are all ready to explore 10 things to do in Bossier Parish. Our parish offers various places where adults, children, and the whole family can enjoy themselves. 
Here is my list. Make sure to visit these businesses, check in, and share your photos on social networks, tagging #bebossier.
By Vita Riner
Unique Things to do in Bossier Parish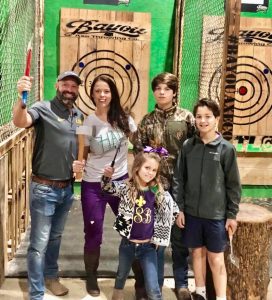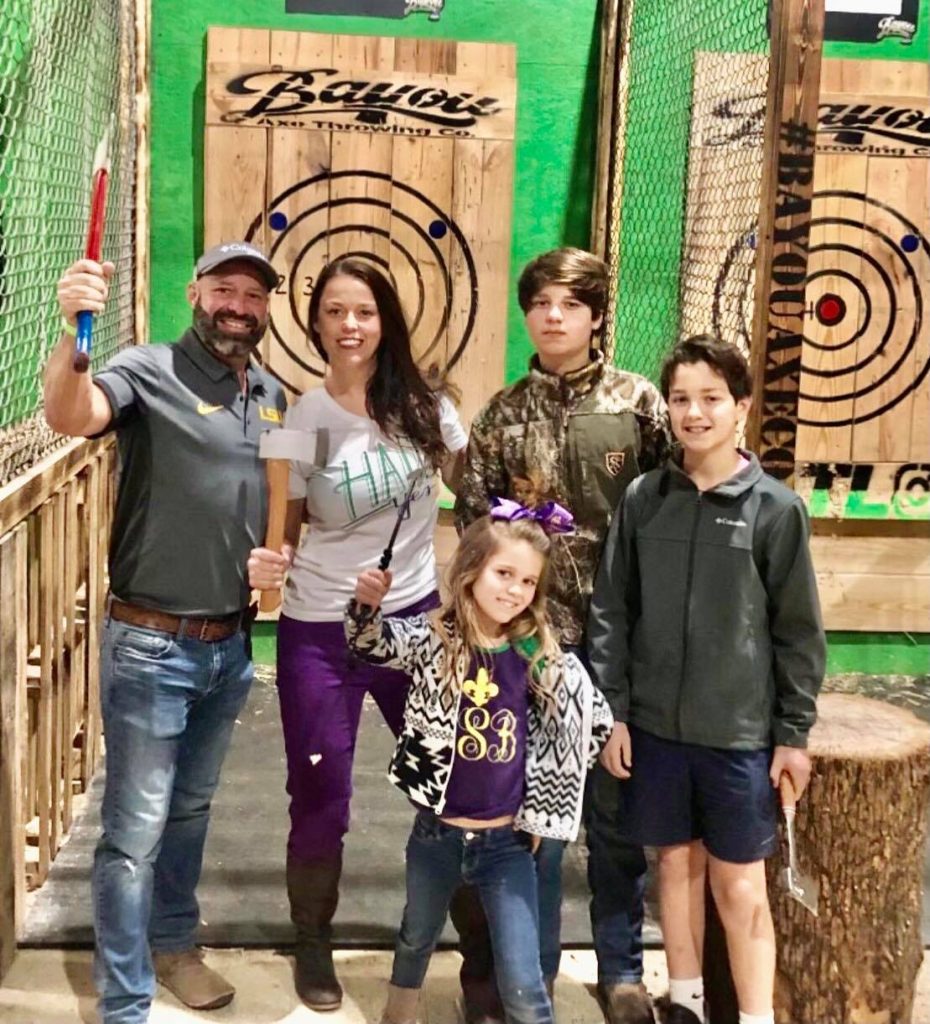 Ax throwing is a trend that gains more followers every day. Bayou Axe Co. is Louisiana's first dedicated wall indoor ax-throwing venue: "We have been to Bayou Axe a few times. It is always a fun time. It's a great family night, and it's also a great adult night," comments Stefanie Smith. This place one of her favorites. More so now that they have an interactive ax shot where you can throw Zombies or play Tic-Tac-Toe while enjoying refreshing drinks.
If shooting arrows is your thing, you don't need to go to Sherwood Forest, where Robin Hood used to play. Here Hoot and Holler Archery allows you to live that experience while you fine-tune your aim. The González family knows this sport very well, as both daughters are extraordinary archers. 
"We go to Hoot and Holler once a week. They have made us feel welcome here, and my daughters have learned a lot while having fun. They organize tournaments, leagues and social events", expresses Mrs. González.
If you need more action, OFF Limits Paintball is your best
option. In this game, you use air pistols to shoot paint-filled balls at your real-life opponent. It is a game of strategy and field recognition, where teamwork and communication make the difference between winning and losing. It is also highly entertaining. Here each of the competitors' abilities plays a vital role in the development of the game. Without a doubt, it is a sport that we must practice with family, friends and maybe our co-workers, where you learn more about teamwork, and you have fun. 
"Paintball with the Principal' is one of the most fun programs to which St. Joseph Catholic School students look forward. This project, which was born from the idea of ​​raising funds for the school and connecting the students with the principal, is a success since the children have fun and even the parents end up playing," says María Sermons, organizer of this project.
Kid-friendly things to do in Bossier Parish
"I was surprised to see how many jumpers and games that Altitude Trampoline Park has. My daughters loved it, and they are ready to go back," says Bianca Rachlin, speaking of how she and her daughters enjoyed it.
This park has 25,000 square feet of fun that includes high-energy equipment such as trampolines, a foam pit, a ninja course, and many other activities. It's great entertainment for kids, families, and groups and is a place where safety is paramount.
"I have two stepchildren, Annaston, 15, and Mike, 14, and my daughter Viviana is on the way. For us, Party Central is a good option for a Friday afternoon, after work and dinner. We burn a few calories while spending time together in the batting cages as a family," says Victoria Pickard. For her, it is a paradise for children, and where adults can also enjoy themselves, stress is relieved, and families are connected.
And of course, you cannot leave out Chuck E. Cheese from this kids section of the list. In every family with children, the typical black and white thermally printed photo of Chuck E. Cheese has been posted more than once on our refrigerators. This children's paradise is ideal for parties, games, and fun, and if they are lucky, they can meet and hug Chuck E. Mouse. While the little ones play, parents sit and enjoy freshly baked pizza and fresh salad.
Things to do in Nature in Bossier Parish
"Brownlee Park is one of my daughters' favorites. Its playground, climbing rocks, picnic area, and water spray park, as well as its pavilions and hiking trails, make it one of the parks my daughters want to visit most," expresses María Vera. Without a doubt, Brownlee Park (also known as North Bossier Park) is in many Bossier residents' memory. If we want to remember our beautiful past or create new and beautiful memories, visit this iconic city park.
"Red River Wildlife Refuge is a place for my daughter to run, watch the insects, and hug the trees. For us, it is as if we disconnect from the city without leaving it, where we can breathe fresh air, have a picnic, and reinforce my daughter's love and care for nature and living beings", says Erika Hand.
Red River National Wildlife Refuge is a nature reserve to preserve wildlife through afforestation and the continued creation of dams to hold water from the Red River, a natural wonder and the ideal place to take children to learn through the workshops it gives. You can also fish, hunt, and do a wide variety of outdoor activities.
Just for FUN things to do in Bossier Parish
9. Dance the night away at Big Country.
Big Country is undoubtedly an ideal place to dance. "I like music, and Big Country is a very comfortable and casual place. They play all kinds of music and sometimes even Latin music. I love the service, they recognize your face quickly and already know your type of drink, and the prices are very reasonable. It's a good place to get together, dance, and make friends," says Yvonne White. This nightclub ignites the heart of Bossier, and even those with two left feet can dance to the music of the DJs.
"I love the atmosphere of the Margaritaville Resort and Casino.
It is always friendly, and its facilities are very comfortable. I'm a regular visitor to Jimmy's Seafood & Steak," Sybil Woods tells us. And of course, my top 10 is the casinos, a tourist attraction that locals also enjoy a lot. Their gigantic buildings house large gambling halls, restaurants, commercial areas, and comfortable resorts. Here the excitement of the games, the noise of a roulette wheel, and the people's bustle become one of the most exciting attractions of this city, where the nightlife is transformed into a miniature Las Vegas. Here too, what happens in Bossier also stays in Bossier.
There are many more exciting things to do in Bossier, but these are ten that you can't miss this springtime. Enjoy the beautiful sunny days and live, enjoy and share your experience with us, always tagging #bebossier.
If you want more information about Bossier Parish Nightlife, check out our recent blog Bossier Parish at Night!  We also have some great information on kids' activities around the parish in Kids Activities/Programs in Bossier.