Bossier Parish Bed & Breakfast 
Family Vacations
It's that time of year again! Spring has sprung, and the time for family vacations is approaching quickly. When I imagine family vacations, I can't help but fondly recall my family's traditional camping trips that we took every summer during the last week before Labor Day. Every year we'd go to the same place: Albert's Pike Campground in Arkansas. Albert's Pike was special for numerous reasons, but what truly made the trips so memorable were the familiarity of the place and the way we were welcomed by the owners of the local store, who were also the caretakers of the park. Their names were Denver and Jan, and they always made us feel like more than just customers or visitors; they made us feel like welcomed guests and beloved friends. They helped to transform our vacations into cherished memories.
Ironically, my husband and his family also went to Albert's Pike every summer. We couldn't imagine how many times we may have played together at the swimming hole or passed each other on the same hiking trails, never knowing that we were passing our future spouse! After meeting years later, we knew that we wanted to create a new family tradition with our children by paying homage to our old stomping ground. Unfortunately, Albert's Pike experienced a tragic flash flood that resulted in multiple fatalities and the permanent closure of the campground.
BNB Experience: More Than a Customer
Consequently, Albert's Pike is only a cherished memory for numerous people who once vacationed there. However, this doesn't mean that there aren't other unique places where new family traditions and memories. In my opinion, one of the keys factors that made our vacation spot feel like home was the way we were welcomed every year. I know that those trips would not have been as memorable if it weren't for the high quality of hospitality we experienced. One industry that usually boasts superior hospitality is the Bed & Breakfast industry. Since BNBs typically offer a more personalized experience than hotels, BNBs are attracting more travelers each year.
Bed & Breakfast in Bossier Parish: Haughton
Incidentally, there are some fantastic options for BNBs right here in Bossier Parish. One of the most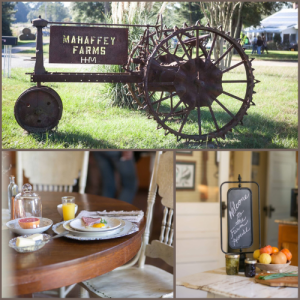 traditional and unique BNBs is in the Haughton/ Princeton area: Mahaffey Farms. Conveniently located off Highway 80, Mahaffey Farms is a real working farm that boasts a "farm to table breakfast" and promises an unforgettable experience for its guests. Although it is near the numerous amenities of Bossier City, such as shopping, dining, family fun, and nightlife, Mahaffey Farms provides a fresh farm perspective for anyone who is searching for an exceptionally unique and affordable experience. 
Bed & Breakfast in Bossier Parish: Benton
Additionally, McCullin on Parks offers another fantastic option for a BNB in the charming town of Benton. McCullin on Parks is a massive home that is situated on a sprawling twenty acres near the lake.
As with the Mahaffey Farmhouse, this luxurious property is also close to all that Bossier City offers, and the property itself has too many amenities to list! While it is a tad more expensive than the Mahaffey Farmhouse, it has more sleeping options and more room for a larger crowd. If a stunning home with a huge wrap-around porch on twenty acres is what you and your crowd need, then this is the place for you.
Keep in mind, these BNBs are only two options out of several that can be found in the Bossier Parish area. Whether you are visiting the area or a resident who wants to maximize your "stay-cation," the numerous options in the Bossier Parish are sure to meet and exceed your needs. Vacations are an excellent opportunity to make lifelong memories, and one of the BNBs in the Bossier Parish area could be the setting for your next family tradition.