New Brookshire Grocery Arena in Bossier Parish
It's the largest multi-purpose event arena in Northwest Louisiana, with 270,000 square feet.
And in Bossier Parish, it's the only place where you can join
13,999 of your closest friends for a concert, sporting event, or graduation ceremony.
You've probably already been there.
It's not brand new … but the name is.
CenturyLink Center is now known as Brookshire Grocery Arena in Bossier Parish.
For more than 20 years, the arena, which was first called the CenturyTel Center, and the CenturyLink Center after that, has been packing in crowds to see big-name performers in concert.
Consequently, Louisiana locals love the fact that they can attend big-name entertainment events without having to the bigger cities.
 Some of the notable concert performers are:                                                  

KISS

Garth Brooks

Trans-Siberian Orchestra

Paul McCartney

Kenny Chesney

Miranda Lambert

Taylor Swift

Alan Jackson

Def Leppard

Luke Bryan

Lil Wayne

Mary J. Blige

Carrie Underwood

Keith Urban

Florida Georgia Line

Lynyrd Skynyrd

George Strait

Kid Rock

Tim McGraw

Creed

Britney Spears

Sheryl Crow

Kelly Clarkson

Fleetwood Mac

Aerosmith

ZZ Top

Toby Keith

Rascal Flatts

Cher

Elton John

Blake Shelton

Bob Dylan

Styx

REO Speedwagon
And the list goes on …
The arena has been ranked in the top 50 arena venues for ticket sales in the past.
Much More Than Music
In addition to live music, the arena has also hosted a variety of world-class sporting events.
For example, it was home to the Shreveport Mudbugs hockey team for 11 years.
And the Bossier-Shreveport Battle Wings AFL team played there for six years.
Many other sporting events have taken place at the arena:
Monster truck rallies

Southland Conference Men's Basketball Tournament

NCAA Women's Basketball Tournament

Olympic Qualifiers for Women's Volleyball

PRCA Rodeo
… to name a few.
And don't forget about the:
Ice-skating shows

Children's programs

Conventions

Comedians

Political rallies

Religious services

Community events
What's New at the Brookshire Grocery Arena?
First – is the name.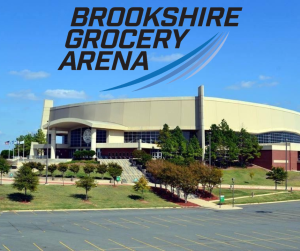 Brookshire Grocery Co. of Tyler, Texas, has been a well-known and well-loved part of the community for more than 92 years.  
In addition to their commitment to excellent service for their store customers, they are dedicated to building the community.
So Brookshire's spent $4.2 million to have their name on the arena building for the next ten years.
Their reasoning is simple: To help bring tourism and revenue to our city.
Second, Bossier City made nearly $10 million in improvements to the arena before the name change took place.
The arena has received a facelift for some of the areas and has a few brand-new features for your enjoyment, such as:
Fully-upholstered seats … with cup holders!

The Club (187-seat club and lounge)

4,000+ free parking spaces

Two large food courts

Front Row Bar

Backstage Bayou (party room)

Casting Call Lounge

200+ restroom facilities

Center-hung video scoreboard

Bud Barn (coming soon)

Pelican Pier (coming soon)
Coming Soon to Brookshire Grocery Arena
Many of the events scheduled in 2019 and 2020 had to be postponed during the height of the Coronavirus pandemic.
However, safety measures have been put in place, and the arena has new, fun events on the calendar:
The arena is managed by ASM Global, a mega-manager for venues and services. ASM Global manages more than 300 of the world's most prestigious arenas.
Rebecca Bonnevie, General Manager of the Brookshire Grocery Arena, handles the local responsibilities for the arena. You can contact her office at 318-747-2501.
So, if you're looking for a great entertainment experience, remember the Brookshire Grocery Arena. You'll find something fun for every member of the family.