Bossier Parish Athlete Competes in Europe
Bossier Parish is the home to some of the most prestigious training facilities for both horses and riders. Therefore, making it the proud home to many top athletes in Equestrian sports.
As a matter of fact, one of the sport's brightest and best athletes is from right here in Bossier Parish. And just competed with the US Team in the World of Equestrian Festival in Aachen, Germany.
Meet Sydney Elliott
Born and raised in Bossier Parish, Louisiana, Sydney says she and her husband can't imagine living anywhere else.
At seven years old, Sydney found her love for equestrian sports at Holly Hill Farms in Benton, Louisiana. When she isn't competing or preparing for a competition, she spends her time training other riders.
Sydney's combined passion and work ethic, along with her knowledge and skill, make her a great mentor. She is the perfect choice for newcomers who want to learn the basic fundamentals of horsemanship or experienced riders interested in competing.
Sydney coaches riders at both Holly Hill Farms and Eightfold Farms, located in Benton, and loves every moment. She has worked with students as young as 6 years old to students in their sixties.
When asked about her daily routine, she said, "Horses don't care about your plans – you never know what to expect."
But despite the uncertainty of a horse that's not in the mood to cooperate, she believes in having a positive outlook, even when things don't go well. She says that the phrase that most often comes to mind is "Let's just get it done, no matter what."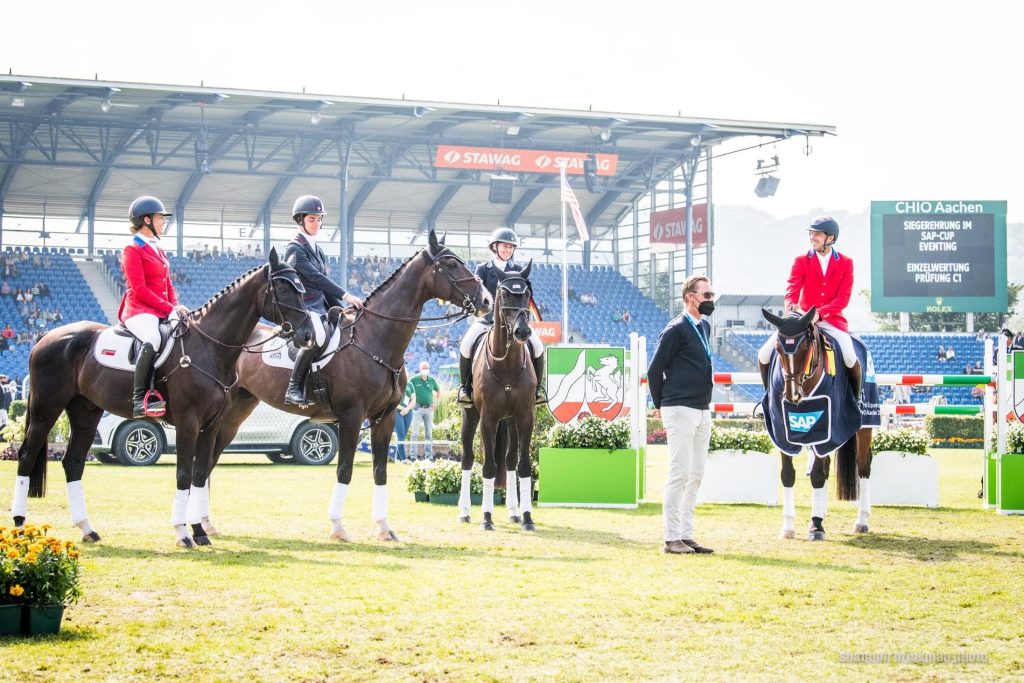 A Positive Outlook Pays Off
It isn't very often that a Bossier Parish athlete competes in Europe with her team and they place second overall in the Eventing portion of The World Equestrian Festival-CHIO Aachen.
The competition was fierce at this 3-day event, with 39 athletes and 45 horses from 10 countries. All showed their skill in Dressage & Showjumping, both held in an enclosed arena and Cross-Country, which runs through the beautiful Aachen Soers. Still, Sydney says it was one of the top thrills of her equestrian career.
She's enjoying a little more time in Europe, where she'll stay until November when she will be competing again.
What is the World of Equestrian Festival?
The World Equestrian Festival-CHIO Aachen is a world-class international horse show held in Aachen, Germany. The city of Aachen held its first horse show in 1924 and has hosted a show nearly every year since.
The World Equestrian Festival attracts more than 350,000 spectators excited to cheer on the athletes as they compete over an inspiring ten-day period.
The Perfect Place for Every Equestrian
Sydney encourages everyone to check out Holly Hill and Eightfold Farms in Benton. Even if you've never ridden before, you could always sign up for a couple of lessons "to see if you're bitten by the horse bug."
Whether you're looking to build your skills or just have a good time and enjoy the ride, Bossier continues to be a great place for equestrians.