Be Bossier will be handing out free t-shirts and goodies at the event – come see us!
The Bossier Holiday Night Market returns this weekend, creating a holiday shopping experience that boasted crowds of 10,000-plus per evening in 2016, its inaugural year.
The Night Market, running, this weekend, Dec. 15-16 from 5-9 p.m., has been a great success in the region because of its unique concept – a free, outdoor market boasting 200-plus vendors all in one spot under twinkling holiday lights in the south parking lot of Pierre Bossier Mall in Bossier City.
"I came up with the idea after a trip to Asia recently," said Chris Graham, founder of the Bossier City Night Market and Bossier City Farmers Market. "Night markets are a way of life and part of their culture daily and year round. Since we already had a huge crowd and following at the regular Saturday morning Bossier City Farmers Market, this just seemed like the next evolution."
The family-friendly market will feature 225 vendors featuring holiday market goods, unique street food, gifts, wood crafts, jewelry, jelly and jams, salsa, hot coffee, cocoa, live music, children's activities and more!
"The night market is something else entirely," Graham explained. "You can find anything there!
"It's a farmers market, a flea market, a retail market, a food truck throwdown, a music festival, and a family friendly event – all in one! You have to experience it to understand what I'm talking about."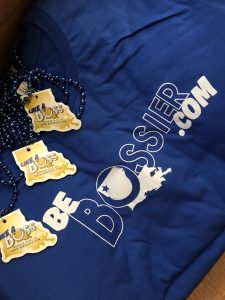 Come out to the market on Friday and Saturday and visit the Be Bossier tent! You can get free T-shirts and beads by taking a photo at the market and tagging #BeBossier and #BossierNightMarket!
"Like" the Bossier Night Market on Facebook and join the event page to stay up-to-date on market news and activities.  https://www.facebook.com/BossierNightMarket