Home to many, ranging from notable politicians to Louisiana's oldest couple of 82 years, the Town of Benton is making an impact on where many in Bossier City decide to plant roots. The choice could be because Benton is somewhat of a hidden gem to the seat of Bossier Parish.
Marcelle Tubbs first moved to Benton over 30 years ago with her husband. As a young couple, they were drawn to the affordable homes and wanted to be close to her husband's work. The couple raised three children in Benton and it is now home to two of them.
"At that time, there was one elementary school, one middle school and high school combined. During my children's life the middle school was built, and separated from the high school and now there are multiple elementary schools so that growth has been exciting," she said. "It's the neighborly relationships that make Benton a great place to live. I lived in Benton during the tornado that ravaged the area many years ago, and the community just came together beautifully and I really felt the love everywhere and the support."
Tubbs also is drawn to the beauty of Cypress Lake and park mixed with city-feel of businesses and restaurants. "Even if you do not live on the water, you can be there in just a matter of moments," she said.
All of Tubbs's adult children refer to Benton as "B Town". This nickname could support the town's personality and what Mayor S.G. Horton calls "friendly and inviting."
Horton is new to his office after being elected just last year, however, he is not new to Benton. As a 30 year resident, Horton said he ran for mayor because he, "loved the town and wanted to keep Benton strong."
During the mayoral election, Horton said he wanted to expand and improve on some of Benton's best offerings, including the community center, city park and the Benton Farmers Market.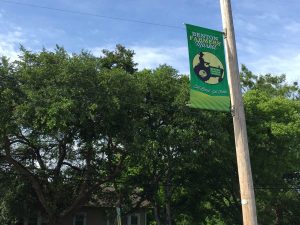 Though Benton is a small town, when it comes to the farmers market, most from the Shreveport-Bossier City are drawn to the sweet findings and crops from the country. And the Benton Farmers Market vendors love the big crowds that are attracted to the town feel of this unique market each summer and fall.
One of the farmers market sponsors is the Bank of Montgomery.
"'Shop local', are the words we live by at BOM. We love giving back to the communities we serve and what better way to do that then to sponsor such a wonderful family/community based program as the farmers market," Carrie Hough, vice president and marketing director for BOM, said. "We truly believe we are helping Benton grow. Not only are we providing loans for homes in the Benton area, but we also provide all banking needs for people in and around Benton. BOM added a branch in Benton in January of 2016 when we acquired Bank of Ringgold. It has been such an honor to serve the community of Benton. This year BOM has taught a financial literacy program to Benton High School students. BOM has employees that are members of local organizations like the Benton Rotary Club."
With a new mayor and businesses that support local events, Benton is showing a bright future ahead for "B Town" residents.