It is still dark outside when Michelle Pledger's alarm sounds at 6:15 a.m. in Bossier. Her Monday begins like most of her days during the week. She makes herself some coffee, then goes to wake up her 12-year-old son Noah to get him ready for school.
As Noah begins to get ready for school, Michelle starts to pack lunch pails for him and her 10-year-old daughter Emma. At this point in the morning Michelle's husband Don Pledger also begins his day. He drinks coffee and gets ready to take Noah to school. Noah completes his morning chore by feeding Belle, the family's rescue dog. After his chore is complete, Noah hugs his mom and jumps in the car.
Don pulls out of the driveway with Noah in tow as they leave their neighborhood Carriage Oaks. They live in close proximity to Noah's school, so it only takes them a few minutes to reach their destination. By 7:20 a.m. Noah, a 6th grader at Cope Middle School, is ready to begin his school day.
Back at the Pledger house, Emma is up and getting ready for school. She is a 5th grader at Stockwell Place Elementary School. Although school at Stockwell begins at 8:05 every morning, Emma gets to school early so she can help with either cheer duty or library duty.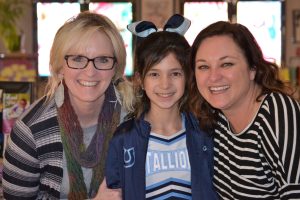 As a cheerleader at Stockwell, Emma gets to greet students once a week as they arrive at school. She says she hopes she cheers up their day even just a little bit. Emma loves reading which is why she also signed up to do library duty during the week.
"Library duty is really fun because I get to organize books and help other kids find books," Emma said.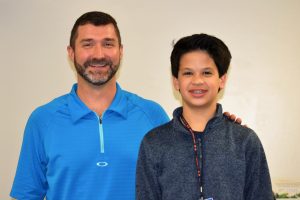 Noah is also involved at his school. He plays percussion for Cope's band. He loves his band teacher Mr. Rabon and says that he makes learning about music fun.
"My teacher makes it really fun," Noah said. "You get to learn a lot of new instruments. You feel a lot of rhythm."
Once both of the kids are settled in at school, Don and Michelle both begin their work day. After dropping Noah off at Cope, Don goes back to the house. He watches KTAL for the local morning news before beginning work at his home office. Don works remotely in Network Management for the Healthcare Industry.
Meanwhile, after dropping Emma off at Stockwell, Michelle usually stops by to eat breakfast (often at Strawn's) and usually looks over her planner before going to do sales calls. She is the Director of Marketing for VCC Janitorial Supply located on East Texas Street. The company is a local family owned and operated business. Michelle says she loves working at VCC because they always put family first.
Three years ago when Michelle was offered the Director of Marketing position after years of working sales for VCC she says the owner Randy Hill reassured her that the new promotion would in no way take time away from her kids. She feels very blessed to be able to work for a company that cares about family.
"That spoke volumes to me because I'm a mom first and then I'm an employee," Michelle said. "It means a lot to me to be able to see how my kids day is going and see their achievements."
With her Director of Marketing position, Michelle is able to highlight other local businesses as well. VCC has started selling items from other Bossier businesses in their showroom. One group they partnered with was Man Made Soap. Michelle says they are always trying to find ways to help out other small businesses.
Before you know it, the school day begins to come to a close. Michelle tries to be in car line for Cope Middle School around 2:15 p.m. Michelle picks Noah and his friend up from school. First she has to drop his friend off at his home near the school, and then she heads to Stockwell to pick Emma up.
Michelle usually likes to take Emma and Noah to get a snack in town after school. She says most of the time they end up at Target on Beene Boulevard. They like getting frappuccinos and eating popcorn from the snack bar. Michelle loves seeing familiar faces when she and the kids are out.
"I feel like it's a small town where everyone knows each other, but we still have everything," she said. "We might have it a little bit smaller–like we have a smaller Target, but we still have one. It's really the personality that we love."
They also enjoy stopping by Gullo's Market near Stockwell. One of Emma's friends is a member of the family that owns the restaurant. Michelle loves getting coffee there because they let her have a mug instead of putting it in a paper cup.
"Drinking coffee in a mug makes you feel like you're home," she said.
This day is much like most days of the week for the Pledger family. The only thing that really changes from day-to-day is where Michelle takes the kids after school. Emma loves when they visit the Bossier Parish Library after school.
"The library has a kid's room where they have kids books," Emma said. "They decorate it with different themes which are really cool."
At dinner time the Pledger family sits around the table and they tell each other about how their day went. The only member of the family that is missing is Michelle and Don's oldest son Alex. He is a senior at Louisiana Tech University where he is studying engineering. Often the family calls to check on him and see how college life is going.
After a long week, the family likes to wind down and spend time together on Friday nights eating dinner at Lin's Kitchen. This gives them a chance to share how their week went and spend time with the ones they love most.
On Sundays at 11 a.m., the family goes to mass at St. Jude Catholic Church. They enjoy hearing the message that Father Karl Daigle gives each Sunday.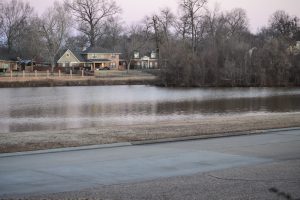 Reflecting on their life in Bossier, Don and Michelle are thankful for their neighborhood. They love the sense of community they get from living in Carriage Oaks. They both also appreciate how having a military base nearby has given the area more diversity. Often the Pledgers will have their neighbors over for dinner.
"The people are kind," Don said. "They say hi and try to help out when they can. There is a lot of kindness here."
When the weather's nice, the Pledgers love spending time outdoors watching the sun set over the lake in front of their house. Michelle says she loves the peaceful atmosphere in Bossier. She feels incredibly blessed.
The Pledger Family Recommends….
Michelle's Restaurant Pick: L'Italiano
"It's a great place to take clients and to celebrate special occasions."
Location: 701 Barksdale Blvd, Bossier City, LA 71111
Emma's Restaurant Pick: Gullo's Market
"They have really good fries and the people that work there are really nice."
Location: 2091 Stockwell Rd, Bossier City, LA 71111
Noah's Restaurant Pick: Twisted Root
"They grill the meat just right. Their burgers are amazing."
Location: 2578 Airline Dr, Bossier City, LA 71111
Don's Restaurant Pick: Lin's Kitchen
"They are friendly and on the edge of the neighborhood and their food is always good."
Location: 2091 Stockwell Rd Suite 14, Bossier City, LA 71111