In Bossier Parish, fall is just another season for great food. While most new to the area will journey out to restaurants to find fall favorites, many locals know you can find some of the best seasonal dishes outside of many eateries. Here are some of the best hidden fall gems in Bossier:
Hidden Fall Gem #1: A Taste of the Community
To some, fall is about being in the kitchen to cook a warm meal for those who you love. At Bossier Parish Community College, Tuesday nights in the fall are all about cooking for the community. Each Tuesday through Nov. 13, BPCC students in the culinary arts program produce fall meals for the public. The cost is $7 and, trust me, you will not go home hungry.
Chef Julie Dupont, a culinary arts instructor at BPCC, is the program director. She said on Tuesday nights, students learn each role as if they were working in a restaurant. From preparing the food to washing the dishes, Tuesday nights give students the job skills they need to learn to work in the food industry.
"It helps them grow as students to be prepared to serve the public," Dupont said.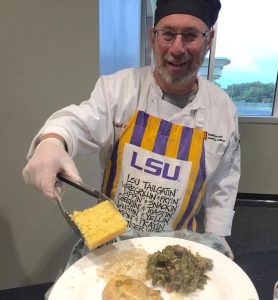 The menu changes up each week, but the smothered chicken for the second fall menu was the star of the night. One student proudly admitted she cooked the chicken, as she managed the salad bar.
Included in the cost is dessert. If you are lucky to attend, when there is more than one dessert, you will have a tough decision to make. When faced with a table full of pies, what one should you choose?
The fall season kicked off with a jazz brunch Oct. 2 and will round out with a special Thanksgiving menu on Nov. 13. If you are craving a homemade meal, try the BPCC culinary arts program. As you walk in Building F on campus, you begin to feel like you are a part of the family. Chances are you will sit next to the cousin or aunt of the student who contributed to the meal.
View the complete fall menu with dining dates.
Hidden Fall Gem #2: Things are heating up
If you have the chance to meet Megan Stovall, owner of Prepped Up Meals, you will learn why food is an extension of love. Stovall grew up with her grandmother cooking healthy meals and was inspired to continue to find foods that would show others healthy cooking doesn't mean it has to lose the taste. Three years ago, Stovall created Prepped Up Meals, a service that delivers healthy meals to you after placing in your order.
"Diet it's normally where people fall short in their health journey," Stovall said. "With the conception that health food is bland and boring, I created a fool proof plan and delicious food to help with the pickiest of eaters. Now everyone can stick to a healthy lifestyle."
Prepped Up Meals is growing rapidly. Stovall said they have been in more than 2,500 homes and she has created about 75,000 dishes in her three years of business.
"Everyone is always on the go," she said. "What's not better than getting home after a long day of work or getting kids here and there and having your favorite healthy prepped up meal ready for you?"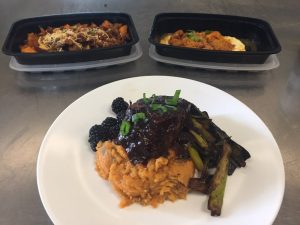 With convenience being one of Prepped Up's attraction, taste is another. For the fall, Stovall is introducing a unique take on some of the popular favorites. Some of the dishes include pumpkin gluten-free protein waffles, butternut squash bisque and (my personal favorite) the bison poblano meatloaf with blackberry infused BBQ glaze.
All of these are available to order through Prepped Up Meals on their website. To order, create a personal page through the website or download the Prepped Up meals app. Click "order now" and select the dish and portion that fits your goals.
With all of the popularity Prepped Up is gaining, Stovall has decided to fulfill her dream of owning a restaurant. Soon many in Bossier and Shreveport will be able to experience Stovall's dishes her new restaurant, Tempo, located in the Shreveport Downtown Airport. Look out for more details on Prepped Up's Facebook.
Hidden Fall Gem #3: Gumbo While Giving
What's fall without traditional Louisiana foods? We're talking gumbo, of course, and everything that makes you feel warm and fuzzy inside, because it's cold and it's finally fall. With gumbo in mind, it is also the season to give back and the upcoming Easterseals event is the best way to enjoy a fall favorite and support a cause.
Mack Morgan, a volunteer and longtime supporter for the Easterseals of Louisiana, will be cooking for hundreds Oct. 27 for the nonprofit's Gumbo and Geaux event.
Morgan's menu includes traditional chicken and sausage gumbo along with jambalaya.
"Being a New Orleans native, Mack is known for his great cooking, particularly gumbo and jambalaya," Mackenzie Morgan, development coordinator for the Easterseals of Louisiana, said.
She said the Easterseals are so thankful for Mack Morgan donating his time and cooking skills to feed attendees at the event.
"All funds raised support Easterseals Louisiana and help us continue our services to support those with disabilities throughout Louisiana. Easterseals Louisiana has served thousands of individuals with disabilities," she said. "In 2018, Easterseals Louisiana provided support to nearly 10,000 Louisianians. These services ranged from support coordination and early development screenings to transitional housing and clinical services. Easterseals Louisiana strives to offer the best services and programs available to assist children and adults with disabilities and special needs achieve independence in their lives and their communities."
Pre-register for the motorcycle rally on their website. The cost is $40 which includes a T-shirt and food. You can also register the morning of the ride at Harley Davidson in Bossier City.
Don't miss Mack Morgan's two dishes and the chance to experience a special a taste of South Louisiana all to assist a nonprofit's mission.
Hidden Fall Gem #4: Pumpkins for the Spirit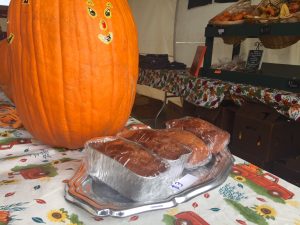 Usually when the weather in Bossier gets just a little cooler, locals head over to the pumpkin patch. Since 1993, Asbury United Methodist Church is where many in Bossier pick out their pumpkin. Each weekend directly behind the church (located at 3200 Airline Drive), the field is filled with yards and yards of pumpkins ranging in color and size.
Though this patch isn't just for pumpkin picking – it's also where you can find the best pumpkin bread possibly in Bossier. The specialty bread is baked with love by the volunteers and community supporters who attend the church and are known as the "Asbury bakers."
Virginia Moser is one of those volunteers who bakes from time to time when the bread is needed.
"You feel like you are helping by just baking. To us bakers, it is just a little flour and sugar but it is helping us raise funds to help make a difference."
Each of the volunteers use the same recipe to maintain consistency of the delicious bread. One signature ingredient is, of course the pumpkin, which Gene Elgin, another Asbury baker, gets directly from the Asbury patch.
Already volunteers have sold more than 100 loaves of the bread and the supporters keep coming out for the more. Large and small loaves are available for purchase.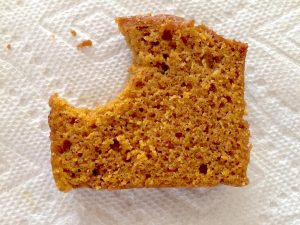 Funds raised through the pumpkin patch don't only go to the church, but they also support local nonprofits and programs such as the Navajo Nation Youth Missions, the flood relief bucket and missions teams, the Northwest Louisiana Food Bank, Downtown Friends, the Renesting Project, Wheelchair Ramp Ministry, Volunteers of America North Louisiana, youth scholarships, local school supplies and the Louisiana Methodist Children's Home.
Bread is available each day at the pumpkin patch and hours vary throughout the week. The pumpkin patch is open until Oct. 31. Follow the pumpkin patch on Facebook.