Are you still looking for the perfect gift for your loved ones this holiday season? It's only the beginning of December, but plenty of people have already completed their Christmas shopping. However, we know there are those that are struggling to find a gift for every family member or friend. That's why we've created a shop local gift guide, so you can rest easy knowing you don't have to wait last minute to complete your Christmas shopping. We even divided it up by the person you're shopping for!
When you're shopping for:
Mom/Aunt/Grandma
For me, the family members that have always been the hardest to shop for each Christmas are my mom, my aunt and my grandma. They always say they don't "need anything" which always makes it harder to shop for them. However, this year I walked into a few stores that made the decision much easier.
Ivy & Stone
When you walk into Ivy & Stone, it is like walking into an interior design wonderland. The store is beautifully decked out with the latest trends in interior decorating and they also have other gifts including jewelry, clothes and spa supplies. It's a great store to find the perfect piece for your loved one to add to their home or apartment. Be sure to check out their Facebook page for holiday deals and discounts.
Location: 4320 Benton Rd
Birdwell's
You can find some of the trendiest southern home decor gifts at Birdwell's, but that isn't all. The store also features art pieces by regional artists in addition to handcrafted pieces of jewelry. There is a large variety of stylish items to purchase there. It's the perfect spot to shop for the southern lady in your life.
Location: 2151 Airline Drive, Suite 1100
Dad/Uncle/Grandpa
Tubbs Hardware
If you were to ask Don Tubbs, owner of Tubbs Hardware, who the best family member is to shop for at his store…he wouldn't say just the men in your family. They also have a  variety of souvenirs and gifts that show off Louisiana culture.
"With the Bossier Civic Center across from us, it was a natural fit for us to include souvenirs in our store," Tubbs said. "I just wanted to bring local to our store."
However, he does acknowledge that they are "truly a good hardware store," so you can definitely get all of your hardware needs there as well.
The store is preparing for Mardi Gras early this year by bringing their king cakes back on Dec. 15.
"They are going to be better than ever. We have so many people request them during the Christmas season because they have family members that come visit. That's what we're excited about. We love it when somebody has family come in to town and they want to see what Louisiana is all about so they come to shop at Tubbs."
Location: 615 Benton Rd
Brother/Cousins
2nd & Charles
So 2nd & Charles isn't exactly a local business, but they do have some really unique gifts. It's the best place to shop for the nerds in your life. From Harry Potter, Star Wars and Star Trek merchandise to vinyl, DVDs, books and video games — there is a whole lot to find at 2nd & Charles. You are bound to find something for your brother, cousins or really anyone in your family. The store also buys used books, movies, video games, etc. and you can get cash or store credit.
Location: 2001 Airline Drive
Sister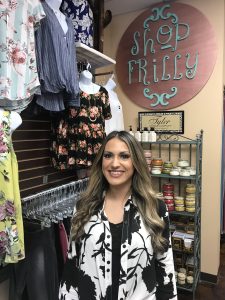 Frilly Magnolia
Give the gift of style to your loved one this holiday season by buying them something from Frilly Magnolia boutique. You can find all the latest trends in fashion at this store. Buy them a cozy sweater or a new pair of leggings. You can even add in a pair of earrings or a shiny necklace if you're feeling extra generous.
Location: 187 Burt Blvd STE D, Benton
Kids
Britches & Bows Boutique
Looking to buy something cute for the little one in your life? Britches & Bows Boutique is a baby and children's clothing store that offers the latest in kid's fashion. You can find a cute outfit or even pick out a kid's book, backpack or accessory.
Friends
Art Workz
If you want to buy your friend or family member something unique and handcrafted by a local artist, then Art Workz is the perfect place to shop. They are a studio, workshop and gallery featuring art from local artists. They also teach classes from time-to-time. It's a great place to go for those looking to buy something a little different for their friends this year.
Location: 517 Barksdale Blvd
Significant Other
Balentine & Co Jewelers
Looking for something shiny and new for your significant other? Balentine is the place for you. This jewelry store offers a variety of pieces including rings, necklaces, watches and bracelets. The store also has extended hours for the holiday season, so you can take your time picking out the perfect piece of jewelry.
Location: 2151 Airline Dr, Ste 200
If you're looking for a variety:
Bossier Holiday Night Market
When you really want to support local vendors/businesses in your area, then the Bossier Holiday Night Market is the ideal place to spend your money. With over 200 vendors to shop from you'll have plenty of options at the night market. Come out on Saturday, Dec. 15 from 3-9 p.m. to finish up your Christmas shopping so you can relax this holiday season.
Location: Pierre Bossier Mall, 2950 E. Texas St.