Don't let the name throw you off! If you're looking for some fun with the kids this weekend, the Corn Dog Busker Arts Festival is just the place you want to be!
Organized by Clark McLendon and the Running Dogs Riding Club, the event on Saturday, March 9 will play host to nearly a dozen live musical acts.
"Corn dogs are just a reason to have a festival," McLendon explained. "A busker is a street musician that plays for money. And what we do, is we raise money for Camp Rainman."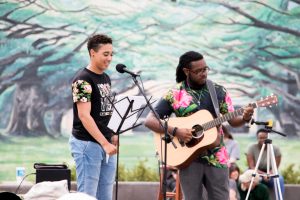 Camp Rainman is a camp for autistic children and some adults. The camp has an office here in Bossier, though its activities take place in Pelican, LA. All of the proceeds from the festival go to the camp, which offers fun and exciting activities with one-on-one counselors for the campers.
"The way to get the donations is we set up a guitar case and we play music, hope people enjoy it and throw in some money!"
McLendon is a guitarist and vocalist who performs with his group called "The Benefit Street Band." Several other acts are scheduled to perform also: Lucas Haz, Will Fenton, Lady and the Tramps, Kenny Addams, Clown the Dancer, Leigh Rose, Sam Ward, Cade Vanderhoven, Magnolia Mae and Rival Nova.
The Running Dogs Riding Club is a motorcycle club that performs charitable works like other recognized clubs, but their chosen non-profit is Camp Rainman, for whom they were able to give around $12,000 last year.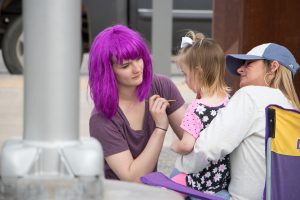 The Corn Dog Busker Arts Festival doesn't just showcase music, of course. There will be plenty of corn dogs, root beer, lemonade and fun for the whole family. Shelby Rae Roy, last year's Corn Dog Master of Ceremonies, will host both men's and women's corn dog-eating contests for which winners will be crowned King or Queen Corn Dog. A real treat for the kids will be the corn dog painting activity. Using edible paint, the little ones can decorate their own dog before they chow down! Of course, all of this fun will be captured by an on-hand photographer.
The festival and its activities will take place in the East Bank Plaza where musicians will perform on 3 different stages.
"If somebody's not booked on the billing and they show up with their guitar in their hand or they show up and want to play, they can borrow my guitar," McLendon said. "We want anybody that has any kind of talent to come on out. That's what this is all about! And hopefully, they'll bring a crowd in with them that wants to throw some money in for donating to Camp Rainman."
To anyone wondering um…why corn dogs? The answer seems nearly as unique the name of the event. McLendon, like so many others, is a huge LSU fan and he claims that rivaling teams used the beloved American street food to taunt him and his fellow tailgaters.
"All our SEC opponents say we smell like corn dogs," he laughed. "Because we have such a big tailgate at our stadium. The stadium holds 100,000 people and there will be 150,000 people in the parking lot before the game, tailgating. So they said we smell like corn dogs, and I did a play off of that and said, 'I like corn dogs!'"
This statement really caught on during last year's festival. The "I Like Corn Dogs" t-shirt was a big seller and it will be back again this weekend.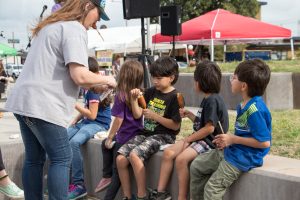 This year the festival is made possible by donations from Sonic, Bossier Arts Council, Flying Heart Brewery, Retro 521, and the Locals Know app. The festival last year brought in between 400-500 people and McLendon hopes to have an even bigger crowd this year. There is no cost for admission. Tickets for food and drinks can be purchased for $1 each or a wristband can get you all of the refreshments you want! The music starts at noon.