Haughton is a town in Bossier Parish where community pride resonates with town officials, educators and most importantly, throughout each neighborhood. If you aren't familiar with the "Buccaneer pride" a drive through Haughton shows the spirit and heart of the community through patriotic murals and the local middle and high schools' colors visible on everything including the water tower labeled, "Haughton Buccaneers."
Katrina Sproles is proud to live in the town and has called Haughton home for 32 years.
"I can't imagine living anywhere else. I know that it takes a village to raise children and my village is my hometown. I'm proud to be a Buccaneer and proud that my children get to be a part of where I was born and raised!"
Living in Haughton also means you get the best display of southern hospitality.
"It's the type of place where families still take care of each other and the 'love thy neighbor' is still alive," Sproles said.
Mayor Jack Hicks has been a long-time public servant and has lived in Haughton since 1978. Hicks describes the town's personality as "sparky because we are proud" and also touted Haughton's "exploding growth."
K.W. Gaspard, Haughton mayor pro tem, explained more on the development and growth happening in Haughton.
"Over the next five to 10 years, we are expecting tremendous growth inside the city limits of Haughton. A large commercial and residential development is in the works at this time," he said. "It is located at the southeast corner of the Highway 157 and Highway 3227 intersection. Eighty-one acres is dedicated to commercial development to go along with a 300 home-plus subdivision. Additionally, Tuscany subdivision is expanding, as has Cornerstone."
But, lately one of the draws to this community has been the new Haughton Middle School, which opened this year.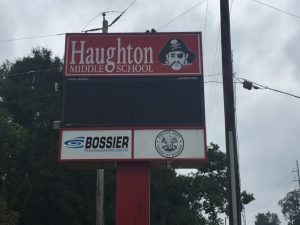 "The new middle school is phenomenal," Sproles said. "I won't say how long ago, but once upon a time I was one of the last eighth graders at Princeton Middle School and was a little jealous they were receiving the 'new middle school' at that time in 1999, and today to say the 'new middle school' again explains how much the Haughton community has grown."
Haughton Middle School principal Richard Warren said enrollment started below officials original projections, but is growing consistently.
"Our current enrollment is 951 students," he said. "As neighborhoods and homes are completed, we expect more students to enroll at HMS. Built to accommodate 1,500 students, we will have plenty of space for new Buccaneers."
Warren said students, faculty and staff are adjusting well to the new facility.
"We are enjoying having the space to accommodate clubs and organizations. The teachers and staff have done an excellent job of helping establish routines and procedures that ensure student safety. We are looking forward to the addition of canopies in the next few weeks. These will be installed on the east and west sides of the school to keep students dry during drop-off and dismissal," he said.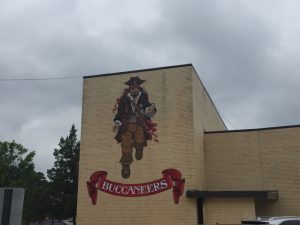 Though in this town, football is what truly unites Haughton and during the games you can not only see but hear the Buccaneer pride. In fact, many pro football stars and local heroes were on the Haughton High School team such as the late Joe Delaney and Dak Prescott. This summer in June, Prescott hosted a youth football camp at the high school stadium. Delaney, an NFL player who passed away in 1984, has since been honored with a memorial park in Haughton named in his honor.
Football is the heartbeat of the community in Haughton.
"It is pretty exciting watching the city and surrounding area come together to take in a football game. Our homecoming parade is always a treat for kids of all ages. The streets are lined as the floats and other participants go by," Gaspard said. "A Christmas parade is on the coming December calendar. The greatest asset of our city are the people themselves because of their warmth and caring toward others."