No matter where you stand on environmental issues, almost everyone can agree that recycling is a great thing to do whenever possible. Warren "Coach" Saucier, the Director of Parks and Recreation for Bossier Parish, has created an innovative recycling project called Fish Attractants by using materials from the past to service the future of Bossier sportsmen.
"The way it got started was that we had to take up an old outfield fence," Coach Saucier explained. "Which were posts with a blob of concrete which we had to go and put out of the way somewhere. I kept seeing these massive amounts of concrete piled up, and I said, 'What can I do with this?'"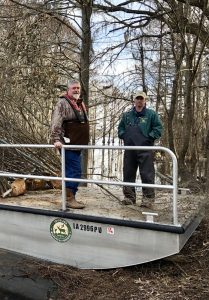 This question prompted Coach Saucier to think back to his father, who was a dedicated fisherman. Saucier's dad used to make what he called "tops."  "Tops" are essentially treetops that are sunk into the water, creating a dense and brushy area in the depths of a lake or pond where fish are likely to congregate. Saucier saw that the outfield fence he had piled up was not actually a bunch of wasted material; rather, the concrete laden poles could serve perfectly as anchors for tops!
Coach Saucier took his idea directly to his superiors on the Police Jury.
"I talked to Coach Brotherton, Mac Plummer and Tom Salzer. I shot the idea by them and they were all for it and told me to run it by Bill Altimus."
Altimus, who is the Administrator for the Bossier Parish Police Jury, told Coach Saucier that the idea "sounds like a winner," and gave him the green light to start the project.
Coach Saucier coordinated with Jeff Sibley at Louisiana Department of Wildlife and Fisheries who not only approved the project but offered to lend assistance by way of a most critical resource: The use of the Wildlife and Fisheries' barge on February 25 in order to deploy the Fish Attractants.
"We're going to start with a few, but this is going to be an ongoing project, off and on, as resources become available." said Coach Saucier. "I have fifty of them right now. If I get all fifty of them deployed, then I'll be looking for some more."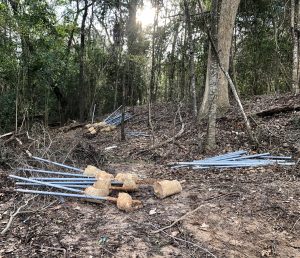 The posts and concrete will tether a variety of trees, such as Willows, Sweet Gums and even Christmas trees, anchoring them to the bottom of the lake. The project's maiden voyage will commence on Lake Bistineau, but future projects could include other Bossier Parish lakes as well.
Locations for these sites will be marked nearby with signs that say "Fish Attractor" in bold lettering. Coach Saucier will also be logging the GPS coordinates of each location so that an online map with the information can one day be made available for public use.
"Bait fish, the little fish, get on the inside of all those tree limbs," Coach Saucier said, explaining why these tops work so well. "And that brings the big fish that hang around the outside."
The menageries of tops will yield their fishing hot spots at an ideal time for the Red Chute Channel area of Bistineau, as the Police Jury has a future in mind for the public's enjoyment in this part of the lake. In addition to the launch, pavilion and primitive camping sites that are available already, there are plans to have RV sites with hook-ups, more primitive camping sites, a handicapped pier for fishing, restrooms, another boat launch and a parking lot that will be big enough to park and stage up to 22 boats.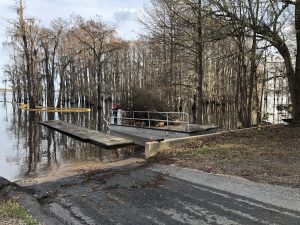 "It just goes back to my dad. Every morning, he'd go out in his boat. He'd go to one spot where he had some tops and he'd catch five or six, then he'd go over to another spot where he had some tops, and he knew exactly where it was. I could take you to his route right now. And we'd have a fish fry every Friday night."
What began as the fenceline of an outfield in a baseball complex has evolved into desirable destinations for local anglers. All thanks to a man with passion for his work and the ability to think outside of the box. Coach Saucier and his ingenuity are something that Bossier Parish residents can truly be proud of.