The school year may be winding down, but one of the highlights for three Bossier Parish students has been earning the title of "Student of the Year."
Each year, this award is given to an outstanding student in fifth, eighth and 12th grade. Students first compete at a school level, district wide, then at the state level. They are measured by academic achievement, leadership ability and citizenship.
Selected to represent Bossier Parish for the 2018-2019 school year are three young ladies nothing short of excellent. 
MEET THE STUDENTS
Katie Bowlin, Benton High Senior:
Dancer

Baking enthusiast

Credits success and inspiration to Jesus Christ

Bleeds purple and gold
During Bowlin's grade school tenure, she has been involved with Student Council, the National Honor Society, First Priority, Gold Jackets, the Bossier Youth Leadership program through the Bossier Chamber of Commerce and a community volunteer.
"I have always strived hard in school and through service but I never expected to receive this honor. I am truly humbled," said Bowlin when asked about being Student of the Year.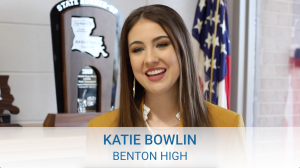 As Bowlin reflects on her grade school years, she offers gratitude for those that have helped mold her.
"I want to thank Bossier Parish and all of the teachers, administrators, my church, dancing school, parents and everyone that have poured into me and led me to be who I am today. I'm very thankful."
Baton Rouge is the next stop for Bowlin where she will attend Louisiana State University. She plans to major in Mass Communications and minor in Economics.
Caroline Moore, Benton Middle, Eighth Grade:
Follower of Jesus Christ

Internationally serves through missions

Soccer player
Caroline Moore has a heart to serve. This is evident through her work in Student Council, volunteerism in the community and even overseas during mission trips with her church. Moore says her positive experiences of serving people may shape the rest of her life.
"I've thought about being a lawyer, sometimes a veterinarian, it's always changing. Recently I really felt like God is calling my life to missions. That may be a mission at home or going international and serving God there," she says.
Moore is also involved in FCA, First Priority and the school's archery team.
Taylor Henry, W.T. Lewis, Fifth Grade:
Cheerleader

Fundraiser

Actress with an agent

Loves math
Taylor Henry may be small but she has a big personality. She has been an actress in professional films, multiple stage plays and has even auditioned for Disney. However, acting is just one of many skills she's perfecting. Henry is a cheerleader with her school, a creative fundraiser during times of crisis, active in 4-H, FCA and Destination Imagination.
"I know I could make a future with acting, even though it probably won't work out. I have my mind set on other things," said Henry.
Other things like attending college at The University of Alabama.
"The college I'm planning to go to is Alabama – not only because my Dad loves Alabama, but I just know that it's a nice academic college and it also has a nice football team," said Henry.
Henry still has plenty time to decide on a major but currently, her favorite subject is math.