Teachers, take heart. Students do listen, especially curious and ambitious students like Airline High School Senior Bhavani Tivakaran.
"My 10th grade Advanced Placement U.S. government and politics course opened my eyes to the intricacies of the government and how I could potentially fill the vacancies," said Bhavani.
Inspired by that course and its teacher, Daniel Baskin, she has become an involved student citizen who encourages fellow students to become knowledgeable about community issues and understand government policy.
Bhavani, 17, was recently elected Governor for 2019 Louisiana Girls State by the 400 girls who attended the event at Northwestern State University in Natchitoches.
Started in 1937 as a nonpartisan program of the American Legion Auxiliary, Girls State's week-long events attract around 16,000 young women each year. While living together in dormitory housing, they hold mock elections and focus on what it means to be an American while learning skills to enable them to take leadership positions in government at the local, state and national level.
"When I attended Louisiana Girls State, I didn't go with the intention of running for governor," she said. "After seeing what amazing people, ideas and activists I could represent, I shared my ideas through the platform of governor. Because Girls State is a mock election program, the title of governor is a ceremonial title, but I will be back to speak to new Girls State members and to serve as a counselor."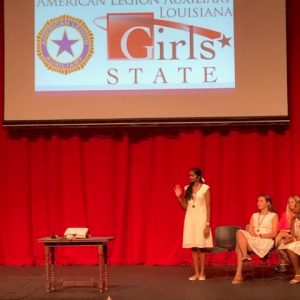 With the goal of attending the University of Maryland or American University, then interning in a government office, Bhavani actively participates in organizations at Airline High that hone her governance skills including military reserve training and debate club.
"I am the president of our policy debate team. This year's topic is foreign arms sales," she said. "Debate has shaped me into a stronger speaker and has widened my scope of knowledge of global politics. We will be competing in Alexandria at Bolton High school. I enjoy all aspects of debate including the research and argumentation styles."
She recently won second place at the 35th Annual Mustang Classic Debate Tournament in Shreveport and serves as Corps Commander of the Air Force Junior Reserve Officer Training Corps at Airline High.
Education and community involvement are important to the Tivakaran family. Her parents are neurologist Dr. Sanjeevi C. Tivakaran, and his wife, Shanthy. She has an older sister, Nandini, studying at George Mason University in Virginia. Reading books, listening to music, watching films and playing board games are always enjoyed by the whole family.
"I have been studying Western classical violin from the age of three, but this year I discontinued my lessons and participation in orchestras as my schedule could not allow it," she said.
However, Bhavani plans to continue her musical education as part of her college curriculum.
She is also quite the book worm. Bhavani likes self-help books, including "The Power of Habit: Why We Do What We Do in Life and Business" by Charles Duhigg, and frequently recommends the classics "The Catcher in the Rye" by J.D. Salinger and "Life of Pi" by Yann Martel.
Bhavani has been a student leader for many years. At 13, she was named Middle School Student of the Year by the Bossier Parish School Board. She maintained a 4.0 average at Greenacres Middle School while serving on the Student Council, participating in 4-H, playing with the Suzuki Chamber Orchestra, serving on the district's MathCounts Team and participating in the Talented Arts Program. She also won the school spelling bee.
She seeks leadership roles in organizations where teens can encourage each other and make a difference. She is also president of the four-parish Step Forward™ Northwest Louisiana Teen Advisory Council.
"We plan youth-centered events regarding mental health, education, and community/civic engagement," said Bhavani. "We hope to conduct a North Louisiana teen summit in February where students can meet with community leaders and maybe local politicians to express their concerns and solutions to challenges youth face today."
Bhavani advises younger people to gain the skills and abilities that will open doors for them. She encourages them to support each other and work together for good.
"Despite stereotypes society has made about girls' role in society, be confident in your abilities to work and succeed; that confidence will unravel any person that ignores your talents," she said. "Find a purpose for your work; the more you are empowered for the service of others, you can overcome any roadblocks."
Photos courtesy of Bossier Parish Schools & Bhavani Tivakaran