Have you ever tried bubble tea also known as boba tea? The Taiwanese tea-based drink has become a popular drink choice at places all over the United States. Some have even decided to open up shops that primarily sell the popular beverage, and now a new bubble tea shop has opened its doors right here in Bossier.
Danny Doan and his business partner decided to open a bubble tea shop in Bossier after his family here insisted that this was the perfect spot, especially since there was a large Asian community here. Doan lives in Dallas and operates a full-service bubble tea cafe there. 
"My friend from Bossier wanted to bring something to the community that wasn't there."
So the pair opened up Boba Xpress on 3210 Barksdale Blvd. The bubble tea shop had its grand opening on August 29.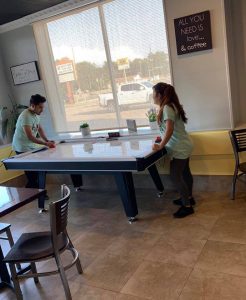 "The city needed a nice boba shop–a place for people to come and spend time."
And with TV's, an air hockey table, and a large variety of delicious drinks, Boba Xpress is the perfect hangout spot. Doan has two kids, so he wanted to create a space that parents would be okay with their kids hanging out after school.
"I want people to come to the shop and hangout. They can study and parents can feel comfortable with their kids hanging out there."
Doan learned how to make bubble tea in Dallas about 5 year ago. He has been perfecting his recipe ever since. While the Dallas bubble tea shop has over 1,000 drinks available, the Bossier shop hasn't quite reached that level. However, Doan said they are working on it.
"We have to train the staff to perfect each recipe and style before adding it to the menu."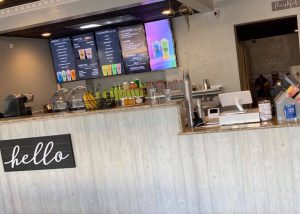 Each cup of bubble tea is made with fresh ingredients. The menu also includes slushes and smoothies.
"We wanted to do it right and make sure the drinks we make are perfect. We use real fruit in our slushes and smoothies. We try to keep the quality as fresh as possible that's why we do seasonal drinks."
Bubble tea is something that can be quite different and new to a lot of people. Doan has a policy at Boba Xpress where he will fix a drink if the customer isn't satisfied. He says they want to make sure every customer enjoys their bubble tea experience.
How does one order the perfect bubble tea? After you choose what base you want for your drink, you can also add toppings. These toppings include boba (tapioca pearls), jelly, and others. Doan usually lets the customers try these toppings if they've never had them before.
"Boba has a fun texture. It gives your drink some added texture and takes it to another level."
Keeping up with the shop can be a lot of work as Doan has to drive from Dallas to Bossier every weekend to check on the shop. He often goes there to train staff to make new drinks. When he isn't there, Doan has his family work as support staff to manage the shop.
"It is definitely a challenge to open a business when you live far away, but I do what I have to in order to make sure the business is doing well."
If you haven't tried bubble tea now is your chance! Boba Xpress has happy hour specials and giveaways each month.
"We are always trying to give back to the community."
Location: 3210 Barksdale Blvd
Hours: Monday-Sunday 12-9 p.m.