The holiday season is quickly approaching, and for many people, it is often accompanied by the simultaneous joy and stress of preparing to host visitors from out of town.
While this article cannot clean houses, complete Christmas shopping, or bake pies, it will certainly help you keep your guests entertained. When the inevitable "what do you want to do?" question arises, here are a few ideas to make some unforgettable memories in Bossier, starting with the East Bank District. 
1. Snag some delicious daiquiris and mouthwatering oysters at the Frozen Pirogue
The Frozen Pirogue opened its doors at the end of October, and the restaurant is already booming. Its menu boasts Louisiana favorites, including frozen daiquiris and oysters, along with classic muffulettas and mouth-watering dishes like biscuits and red gravy. 
Owner Beau Hays says the daiquiris are a must for any visit to the Frozen Pirogue. His favorites include the Grand Isle Cutthroat and River Boat Gambler.
"The Grand Isle Cutthroat is similar to a hurricane-style daiquiri," said Hays. "It's strong, but it's probably our most popular one. Our River Boat Gambler has a similar design to a frose."
As the restaurant continues to develop, Hays said customers can begin to expect other items to emerge on the menu, including frozen beer.
Location: 515 Barksdale Blvd.
2. Fill up on authentic Cajun cuisine at Beauxjax Crafthouse
Along with co-owning the Frozen Pirogue, Hays is also the owner of Beauxjax Crafthouse, which is located just two buildings over. According to Hays, the East Bank District is more than just dinner or drinks. 
"This is a destination spot. You need to come and kill a day down here," said Hays. 
While Frozen Pirogue has frozen drinks and Gulf Coast options, Beauxjax is known for its cocktails, beer selection, and of course, some of the best Cajun food in Bossier. Beauxjax is a perfect place to take friends and family from out of town who are looking for a Cajun craving fix. 
With po-boys, classics like gumbo and jambalaya, and favorites such as the crawfish pepper-jack macaroni and cheese, family and friends will leave with their stomachs full and taste buds overjoyed.
Location: 501 Barksdale Blvd.
3. Take a shot at ax throwing
Located in between the Frozen Pirogue and Beauxjax is Bayou Axe Throwing Company, an 18 and older establishment for people to kick back, sip a beer, and compete in a new phenomenon: ax throwing.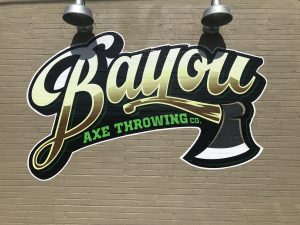 While the ax-throwing itself provides a good laugh and quality fun, perhaps the best part of the experience is spending time with the ones you love. As each person takes their turn chucking the ax toward the target, friends get to spend time catching up with one another, savoring drinks and making lasting memories. 
Plus, who doesn't love a little friendly competition?
Location: 509 Barksdale Blvd.
4. Sip a pint of home-brewed beer
The beauty of the East Bank District (besides the food and drinks), is the feeling of community rather than competition. Each establishment located in the district is different from the next, but they all work collectively alongside one another to show Bossier residents and visitors alike the close community of this city.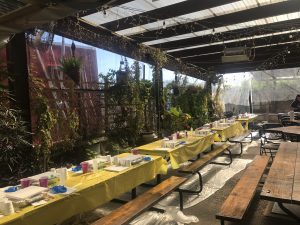 Flying Heart is just another perk of the East Bank District. With craft beer brewed on-site, craft pizza, craft cocktails, and monthly specials, there is something for everyone here. Adults and kids alike enjoy the outdoor garden area, as well as, available games to play. 
Head over to Flying Heart and take some time to let the kids play and sip a beer while spending time with family and old friends.
Location:  700 Barksdale Blvd.
5. Shop until you drop at the Louisiana Boardwalk
Located conveniently down the road from the East Bank District, the Louisiana Boardwalk is a must to take out of town visitors––especially those who love to shop. The spirit of Christmas thrives at the Boardwalk during the holiday season in the towering Christmas tree and festive décor. 
Shops include Banana Republic, Gap, Bath and Body Works, and Nike, among several others. Tackle your Christmas shopping list and then treat yourself to a chocolate dessert at the Chocolate Crocodile. 
Location: 540 Boardwalk Blvd.