While Black Friday grabs all the headlines when it comes to holiday shopping, Small Business Saturday keeps getting bigger and bigger among consumers.
Last year, shoppers spent a record $17.8 billion at independent stores and restaurants on the Saturday after Thanksgiving, according to research by American Express and NFIB.
This year, the 10th anniversary of the movement that encourages shoppers to support their local stores and restaurants, Small Business Saturday is on Nov. 30.
Jessica Hemingway, director of marketing for the Bossier Chamber of Commerce, notes that getting out and shopping at big-box chain stores on Black Friday still helps the local economy, but she challenges everyone to dedicate at least a portion of their gift budget to local stores.
"You can have the largest impact on your local economy by shopping small," she said. "It takes a lot of heart to start a business and these people who take the risk to start their own business are the same people you see every day in the grocery store or gas station. What better way to support your neighbors by taking a chance on them and putting some of your Christmas shopping budget toward a locally-owned, Bossier business this holiday season?"
One of those local businesses is Spa Concepts Aveda Salon & Spa. Growing from the first salon in Southpark Mall in 1992, Spa Concepts opened its first location at Ashley Ridge in Shreveport in 2003 before expanding into another location in Shreveport and then their Bossier City spot in 2018. General Manager Michael Anderson and his mother, Kim, expanded to Bossier City after demand from existing clients.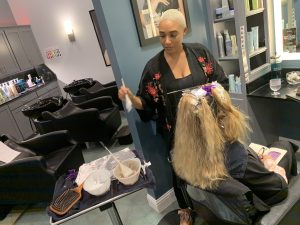 "My mother and I love to entertain and make people feel good about themselves. Giving people a place to unwind, relax, and get pampered is what drives us. Seeing the ear to ear grin on someone who got that perfect haircut and color is a wonderful feeling," Michael said.
Michael said that while they have participated in Small Business Saturday in the past, this year they plan on doing something a little different by offering their four most popular services at discounted prices all week so people can take time for themselves before the chaos of the weekend.  
"We hope that offering these specials before Black Friday and Small Business Saturday will give us the bump in business we wanted to see in past years," he said.
Michael explains that small retailers offer shoppers personalized service, giving them the ability to talk to a trained salesperson or a business owner who might have more expertise than a cookie-cutter employee at a big national chain. 
"If people want a thriving local economy, they should shop local as much as they can," Michael noted. "Your support will keep money in the area and help improve life for everyone in Shreveport-Bossier."
Chelsea Rangel, owner of Branded Boutique, always knew she wanted to run her own business. However, having played softball in college, she was torn between her love of sports and her love of fashion. But after her future was decided by a coach, she took her side business of selling shoes in college to a whole other level. 
An upscale boutique specializing in items unique to the area, Chelsea notes that local retailers offer personalized care, and her boutique specializes in personally advising on styling and sizing for their customers. 
"We had a sweater that I was able to wear as a dress. We posted that to social media and a girl asked If she could wear it and I told her, 'Please come try it on because I can't ship that to you and then it not work for you," she said. 
She revealed that Black Friday is a very successful day for them. Still, movements like Small Business Saturday are very important for small, local retailers like them. Chelsea said it acts as the climax for early holiday shoppers.
"Most people shop local in November and then shop in big box stores in December. People have been starting their Christmas season earlier this season," she said. 
She encourages shoppers to remember their local businesses, saying, "It depends on the shopper and who controls the money in your household, but you need to have some budget set aside to help your local stores and businesses."
Brittney Copeland, owner of Frilly Magnolia in Benton, started her boutique with an emphasis on being a welcoming, affordable place for all women. 
She said that focus on relationship building is what sets small businesses apart from larger chain stores, and they don't try to compete with retailers offering big-ticket items.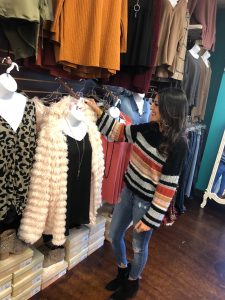 "We can offer a better experience than major retailers, 1000%," she said. "You're not going to get trampled or identity stolen from skimmers. It's that welcoming experience and the product — there's a lot small businesses offer that you can't find at other places and we all work hard to have it that way."
The Frilly Magnolia takes part in Small Business Saturday by adding a few specials on top of their normal product and service. 
"We do some specials to give people specials to entice to shop local and gives them another option. Always a big sale day for us every year. We always feel a lot of support," Brittney said.